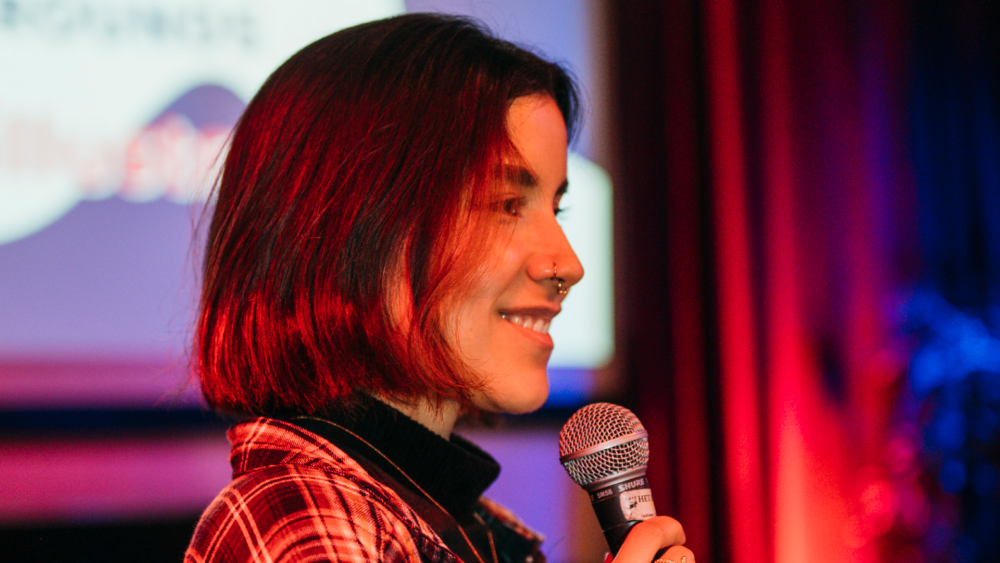 In this panel, the guests will discuss how being Latin American has shaped their trajectory within the creative industry. The guests will not only share their stories, sources of inspiration and motivation but they will also try to pinpoint what makes the Latin American voice in the animation world, with its outstanding combination of rich visuals and powerful messages, a force to be reckon with.
This panel is led by artist Juliana Erazo. She will be joined on stage by 2Veinte,Carolina Brandão (BUCK) and Le Cube.
Juliana Erazo 
Juliana Erazo is a Colombian visual artist and a recent graduate of an Animation Master at AKV. St. Joost. Her work focuses deeply on reflecting the female experience in different contexts and cultures that make up different struggles: from body normativity, sexuality and motherhood.
Carolina Brandão(BUCK)
Brazilian born Carolina Brandão graduated an Advertising and Marketing major at the ESPM Escola Superior de Propaganda e Marketing as well as a course on Film and TV Production at the University of Westminster. She worked as a senior film producer at MediaMonks in São Paulo before joining BUCK at their new headquarters in Amsterdam. As Head of Production at BUCK she worked, among others, on What is GitHub project, eluding to the millions of diverse developers, start-ups, and customers that rely on this platform everyday to develop their exciting ideas.
2Veinte 
Design and animation studio 2Veinte creates magic through their animations. With a passionate and talented team, based in Buenos Aires, Argentina, 2Veinte exemplifies the cutting edge of the new generation.
2Veinte's crew is driven by creativity and hard work, always willing to add that special and creative touch that distinguishes them. The studio combines commercial work with non-commercial projects. Several of their experimental shorts, such as Ricochet Splendid, Psychic Land, Wild & Woolly and 100 years Armenian Genocide, have been selected and showcased at more than 50 animation and film festivals all over the world.
Le Cube 
Le Cube is an award winning design and animation studio known for its animated creations. Their characters and stories are sharp, fluid and undeniably breathtaking. Le Cube's projects have gained international recognition at festivals such as Cannes Lions, Ciclope and NY Festivals.
The work of Le Cube in film and illustration include character-driven animations in 2D and 3D, motion graphics, stop motion, live action, and often even a mix of all those styles. They design stories for classical outlets such TV and internet but also for less traditional media such as VR,  360˚ videos, interactive installations, and AR. Le Cube describes itself as: "Masters of the classical techniques and lovers of new technologies."