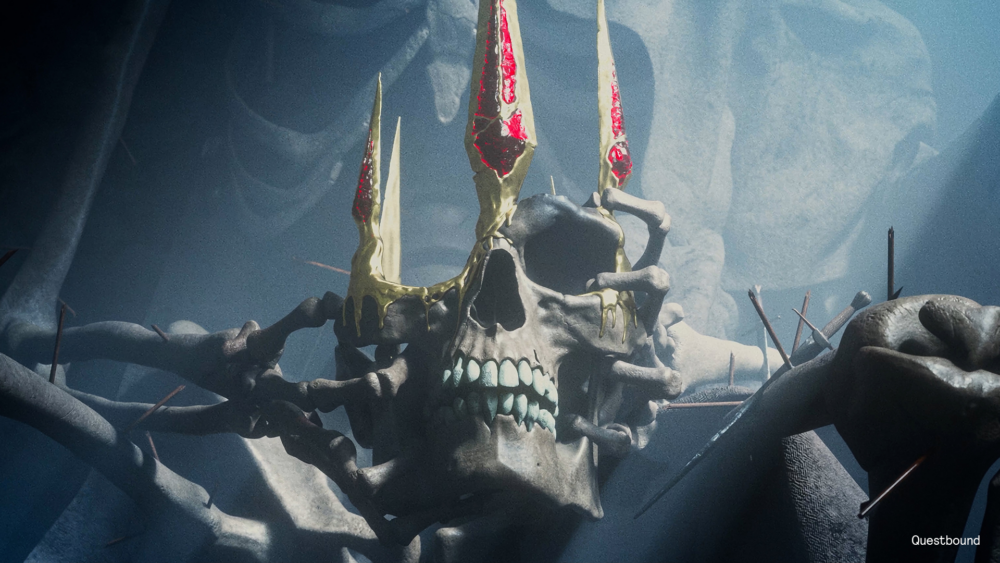 Once again we are teaming up with our friends and Next partners Kaboom Animation Festival. They handpicked a stunning selection of short animations, the absolute crème de la crème from their program of the past year. So if you want to catch up with some Kaboom must-sees in a nutshell, do make sure you reserve some time to enjoy this carefully curated program.
Kaboom Animation Festival is the one-stop-shop for the latest and greatest in all things animated. Ranging from cutting-edge experimental arthouse to colourful stories for families and kids, Kaboom caters to the animation needs of all. Check out the program below!
Skinned by Joachim Herisse (20 + 21 April)
In an old building, lost in the middle of the swamp, live two strange women, Siamese twins by one leg. At night, the Flayed has terrifying nightmares in which she sees her sister's flesh covering her own body…
"The pleasure of love lasts but a moment."
Encounter the right amount of creepy and disturbing with this tale of two swamp women, Siamese twins by one leg. At night the Flayed has terrifying nightmares in which she sees her sister's flesh covering her own body. With echoes of Cronenberg and Julia Ducournau, Skinned is a powerful stop-motion film about an abusive relationship that deeply affects the boundaries between the other and the self.
How Many by Bianca Scali (20+21 April)
Mathieu is weighed down by many questions which put him in a heavy state. But as he gives in to his sadness, the rain becomes tears and his tears become rain. He becomes one with his sadness. It's his time to dance, and the tears accompany him. This beautiful symbiosis of music and visuals is a music video for a song by French singer-songwriter Mathieu Boogaerts. It was achieved through the cyanotype photographic printing process, giving the short film very soft textures and a wonderful analog look and feel.
Goodbye, Jerome 8 by Adam Sillard, Gabrielle Selnet and Chloé Farr (20+21 April) 
Reminiscent of the whimsical Beatles-inspired Yellow Submarine and filled with bizarre, unorthodox characters, Goodbye Jérôme traces a trip through paradise. Jérôme sets out to find his wife Maryline. In the course of his search, he sinks into a surreal and colourful world in which no one seems to able to help him.
Questbound 8 by Owen Buckley and Alexander Bierling (20+21 April)
Nothing could excite the great king, but then along came a noble knight … But is the undead king flirting? Infused with delightful humour and some welcome nerdiness, Questbound is a medieval fantasy story embracing that even undead kings have primal needs.
Fur 7 by Zhen Li (20+21 April)
Somewhere between the paintings of Egon Schiele and the eeriness of David Cronenberg lies this mysterious student film. Starting in a science class with a girl who has a crush, the film rapidly descends into a moldy, furry, wet dream-like experiment. When the fumbly feelings of a crush are held out for too long, they turn ugly – and furry.
Please Let Me In 2 by Peter Millard (20+21 April)
The inimitable Peter Millard strikes again with a humorous short in his own characteristic style. This one is again laugh-out-loud silly and features a man who desperately wants to get in a house.
An End to War Enough 5 by Simone Massi (20+21 April) 
A visceral experience with a clear anti-war message, this animated short was made for 'Emergency', a humanitarian NGO, and shows the devastating consequences of war and conflict, from WWII to the refugee camps of the 6-Day War, from the attack on the Mostar bridge to the cars set on fire in the war in Syria.
backflip 12 by Nikita Diakur (20 April) 
Practice makes perfect. Does that also apply for an avatar? Nikita Diakur wants to learn a backflip, but that's not exactly safe. You can break your neck, or land on your head, or hurt your wrists. So, he let his avatar learn the trick. Practicing on a 6-core processor, Fake Nikita makes thousands of attempts to do a backflip with the help of Machine Learning. Highly entertaining and equally hilarious, this experimental film mixes age-old slapstick routines with modern tech.
The Devil is Dancing by Marion Letot (20+21 April)
Two young sisters see their pink-medieval-world-harmony disturbed when a pretty sword appears in their life, revealing a dark vice in the heart of one of them. A surprising student work dipped in dark-ish pink paint.
A Dog under a Bridge by Rehoo Tang (20 April)
"I'm a dog who lives in the park under a bridge. Awoooooooo!" A Dog Under a Bridge started with filmmaker Rehoo Tang walking under a bridge in China. Here was a quiet, deserted, and wild park with people who seemed abandoned by society and who tried to eliminate the loneliness in their lives. To fit in, he imagined himself as a stray dog living alone. Rehoo Tang ended up winning the Jury Award for Best Graduation Film in Annecy.
20 April – Session 1: How many, A Dog Under The Bridge, An End To War Enough, backflip
20 April – Session 2: Questbound, Fur, Please Let Me In, Goodbye Jerome
20 April – Session 3: Skinned, The Devil Is Dancing, How Many, A Dog Under A Bridge
21 April – Session 1: Goodbye Jerome, Fur, How Many, Skinned, Questbound, And End To War Enough, The Devil Is Dancing, Please Let Me In