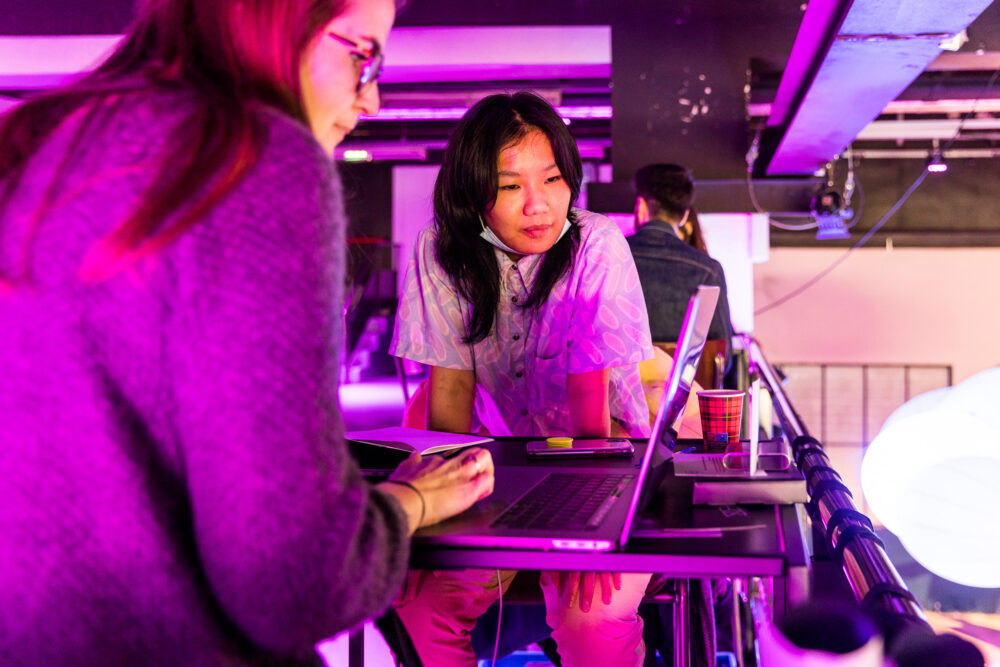 The Art Department (Berlin) is giving you the chance to talk to artist and studios. Get connected, get advice and learn about how to improve your portfolio.
Confirmed artists + studios
We are happy the following artists and studios are willing to conduct portfolio reviews (tentative program, more artists and time schedule to be announced):
Having collaborated for Disney's crème de la crème productions such as The Beauty and The Beast, Aladdin, The Lion King, Pocahontas, Mulan and Brother Bear, among others animator and illustrator Aaron Blaise has something to say about portfolio's.
With headquarters in Amsterdam, Los Angeles and London, Submarine is an award-winning production company that develops and produces feature films, scripted series, documentaries, animation and transmedia projects.
Golden Wolf is an animation studio specialised in a diversity of techniques and executions, constantly expanding their range of capabilities. Their list of clients includes Nike, Disney, Cartoon Network, Gatorade and Converse among others. More recently, they dived into the world of puppetry and live action. Award-winning director, artist and writer Izzy Burton, who is also Golden Wolf's Art Director will do the portfolio reviews.
Armel Gaulme is a French illustrator and graphic designer living in Paris. For almost 10 years, he has been teaching classical drawing at Penninghen and in early 2019 he joined the team of Superani, an artistic collective set up by Hyunjin Kim and Kim JungGi, two great Korean artists.
Working directly with brands such as Liberty Global, Chanel, Schwups, Dell, Asics, TNT, MTV and also digital/advertising agencies, The Panics are a tight-knit team of directors, creatives and producers ranging in specialisms from live action direction/production, animation and motion graphics through to high-end VFX and VR/AR development.
Anne-Laure To has been working for 15 years as a visual development artist and matte painter for feature films, 3D and 2D animated movies, animated series and advertisement. She currently works for the French creative, animation and production company Fortiche. Anne-Laure worked on the Rise videoclip of League of Legends and several Arcane episodes.
Disney, Chromosphere, Dreamworks, The Line, Cartoon Network, Studio AKA… she has done it all! Animation director and illustrator Manddy Wyckens is not only an incredible promoter of female artistry, but also of the beauty in female figures.
A successful drawing tells a story. That is the philosophy of Wouter Tulp, a Dutch top character designer, illustrator and concept artist. He is well known for his expressive characters and illustrations. Tulp has told many stories in magazines, books, commercials and animations like Trippel Trappel and Netflix' High in the Clouds (to be released).
Wooga is a market leader for story-driven casual games. Based in Berlin, over 200 employees from 40 different nations develop high quality games with engaging stories at the core of the experience. Wooga's aim is to play a memorable and positive part in people's lives and create joyful moments they look forward to playing everyday. Since late 2018 Wooga is part of Playtika, an Israel based company for free-to-play social games.
Even Mehl Amundsen is a Norwegian illustrator and concept artist widely recognised for his fantasy based character designs and monsters. He has traveled and worked all over the world from Norway to Canada and then Prague, Czech Republic, which has helped him develop a very particular and yet popular style.
Mikey Please is a BAFTA award winning animation director and writer, based in London. He is known for his works like: Elliott from Earth, Alan the Infinite, Zero Greg, Marilyn Myller and The Eagleman Stag among others. Mikey recently co-directed a 30 minute Christmas Special at Aardman Animations for Netflix with his long time collaborator and bestest pal Dan Ojari.
Jenny Harder has been working as an Art-director, visual development and concept artist in animation/games for almost 10 years. She has worked on the Tv show 100& Wolf, projects like Ubisoft's For Honor and Disney Infinity (Guardians of the Galaxy, Rise Against the Empire and the unreleased Moana playset).
Character designer Jeremy Hoffman has been a long time Playgrounds friend, always dropping in a sketch during our events, capturing a moment, making visual recaps of his favorite artists and talks. Jeremy has years of experience in the industry and is an expert on finding your identity and goal as a designer.
Moth is an animation studio based in London founded by three friends. It's iconic emotive and human storytelling has gained a lot of recognition and organizations like The Guardian, Facebook, CNN and Netflix are part of Moth's clientele. The work of Moth has been celebrated at festivals worldwide, earning them multiple BAFTA nominations, an Annecy Cristal and D&AD pencil amongst other awards.
Axis is a multi award winning animation and VFX studio, known for their work for Chernobyl, Love, Deaths and Robots, multiple AAA game trailers, including Gears of War 5 and Outriders, among others. Spanning three UK studios, they share a fascination for the possibilities of art and technology, and a passion for discovering where imagination can take them next. Art director at Axis Studios Bram Sels will talk to you about your portfolio.
HOW DOES IT WORK?
1 review per person is allowed (due to high demand)
Registration for portfolio reviews can only be done on-site at the festival venue.
It's a first come, first serve system. Get your running shoes on.
The reviews will be done face-to-face. If you want to show your portfolio digitally, you'll need to bring your own device.