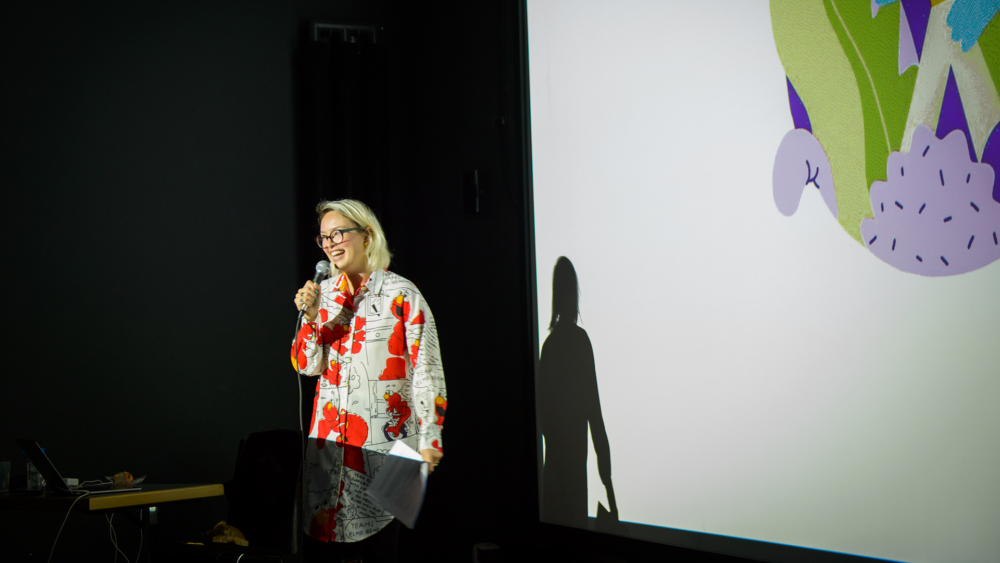 Trends of past years have seen commercials female directors getting stuck predominantly creating tampon ads or charity projects that illustrate challenging subjects on screen. Thankfully things are starting to move beyond this narrow vision and, with their work, women are now able to also have fun.
The aim of this panel is to discuss women making fun work and to encourage female creators to not feel the need to lean into the old trends or the pressure of creating work around "women's issues". Host Hannah-Lau Walker will be joined on stage by Becky Sloan, Sophie Koko Gate and animation director Laura Jayne Hodkin.
The panel will also touch on the ideas behind comedy animations, how the guests originated their styles as well as exploring their joy of leaning into the funny side of animation.
The She Drew That collective aims to develop female (the descriptor including cisgender, transgender and non-binary people) freelancers' skills and connect them with people in the animation industry to enhance their employability.
Founded in April 2019, they initially ran monthly workshops, creating a network of active female animators and engaging existing female directors as role models and inspirational presenters to develop attendees' confidence as well as their skillset.
Laura Jayne Hodkin is a London based animation director and artist originally from Derbyshire. Her work brings offbeat and funny characters to life in striking colour as they unapologetically play out their loves, hates and sometimes dark ambitions.
Becky Sloan is a director on a mission to make the world more fun, armed with an adventurous handmade approach to animation and an absurdist sense of dark humour. She has directed music videos for Tame Impala and Unknown Mortal Orchestra, but her most well-known work is Don't Hug Me I'm Scared. The YouTube series of DHMIS collectively racked up over 240 million views, with screenings at countless festivals worldwide, including Annecy, SXSW, Pictoplasma, Anaheim, and Sundance.
Sophie Koko Gate is an animation director working in London, known for her films Slug Life, Hotel Kalura and Half Wet. Her films have been screened in festivals worldwide including, Sundance SXSW, BFI, AFI and the Tate Modern. She has made short films for Hulu, FX, Adult Swim, MTV, BBC and BFI. Sophie has also curated animation for Adult Swim's Off The Air programme entitled 'Moon' and Eternal Family's monthly programme.