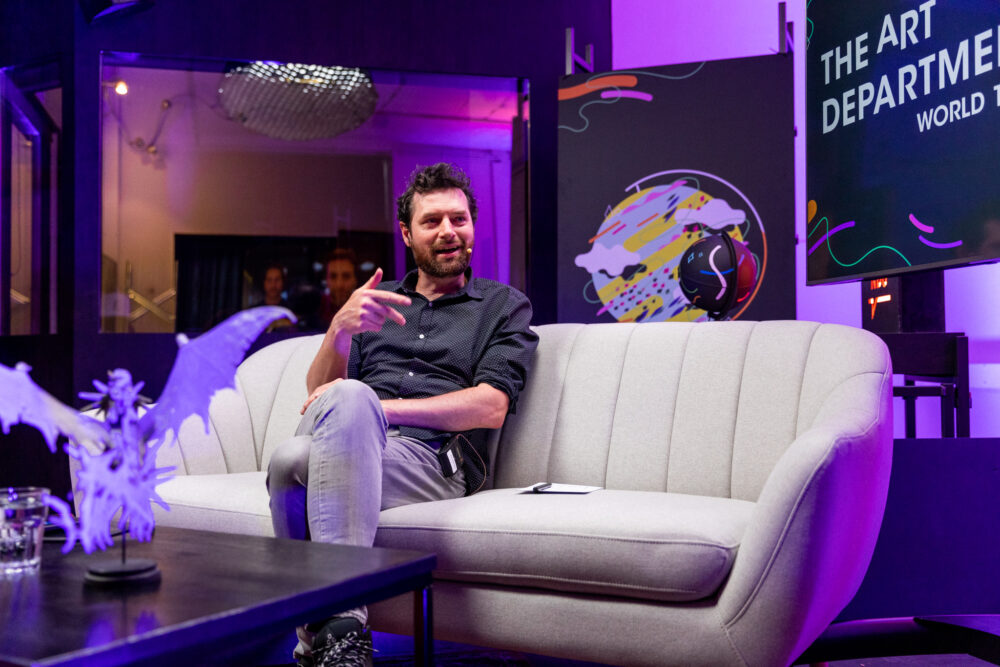 Time to meet our wonderful hosts! Even with the greatest speakers, an online marathon of 24 hours could easily side-track if not for the efforts of an amazing team of people a.k.a the hosts! For our World Tour we've picked some very different, but very experienced industry professionals, connected to the art department world, but most importantly, very closely linked to the Playgrounds family.
You can count on our hosts for asking the questions you didn't know you wanted to ask, keeping the talks sharp, connecting with our online audiences and ensuring you, dear friend, have a fun and, at the same time, insightful experience. So meet The Art Department | World Tour hosts for the day (and night!).
First up is festival director Leon van Rooij. The founding father (and mother!) of Playgrounds, curator for the program, he really knows our guests artists like no other. But, as a teacher af and co-founder of the Master of Animation at St. Joost School of Art and Design, he is also extremely connected to the learning needs of students and young professionals. No matter how fun and relaxed an interview with a guest artist is, you can always expect Leon to twist and turn it so that it also contains some very useful tips for any viewer that might want to polish their skills.
Being a concept artist himself, Danar Worya knows how to pull the ropes in the industry. He worked for companies such as One Pixel Brush, Infinity Ward and Naughty Dog, contributing to the creation of games such as Uncharted: Lost Legacy and The last of us II and Call of Duty: Infinite Warfare. Danar has a very good understanding of challenges an artist might face and knows also very well what not to ask. But, most importantly, he is himself a fan, sharing a lot of admiration for the artists in our line-up! For this World Tour he not only is a host, but he also co-curated the program.
Spiridon Giannakis has been involved in our Art Department events from day one, being also a creative consultant for Playgrounds. Founder of Firestarter Community Magazine, Spiridon has always showcased a unique understanding of the art department community ending up developing strong bonds with many artists. He even helped some of them design and publish their own art-books through extremely successful crowdfunding campaigns.
Juliana Erazo  is a Colombian visual artist and a recent graduate of an Animation Master at AKV. St. Joost. Her work focuses deeply on reflecting the female experience in different contexts and cultures that make up different struggles: from body normativity, sexuality and motherhood. Being part of Next Talent Program, 2020-2021, Juliana has a very good understanding of the values Playgrounds promotes, while in the same time being quite aware of what a fresh talent might need for growing. Juliana also helped us to curate the panel about the state of in the industry in South America.
Yangtian Liwill be for the first time involved in a Playground event, but something tells us this will be the beginning of a beautiful friendship. She has worked on several games including Call of Duty: Black Ops IV and Black Ops III, Vainglory, Figureheads and multiple mobile games. She has also created on a number of book illustrations and illustrations for magazines. At the World Tour we'll get a crash course in her creativity thanks to an in-depth interview, and then she will be our host for a panel about the influence of Asian culture in storytelling. So very exciting!
Last but not least, Jacklyn Cornelisse the heart of the production and artist management of all Playgrounds events. Trained as a visual artist she quickly discovered her talents for making things happen, whether them being art projects, real-life events with hundreds of visitors or online events with thousands of viewers. Jacklyn is an absolute queen in pampering us all, making sure all we need to do is grab us a drink and some comfy food, lay back, relax and enjoy an awesome show!