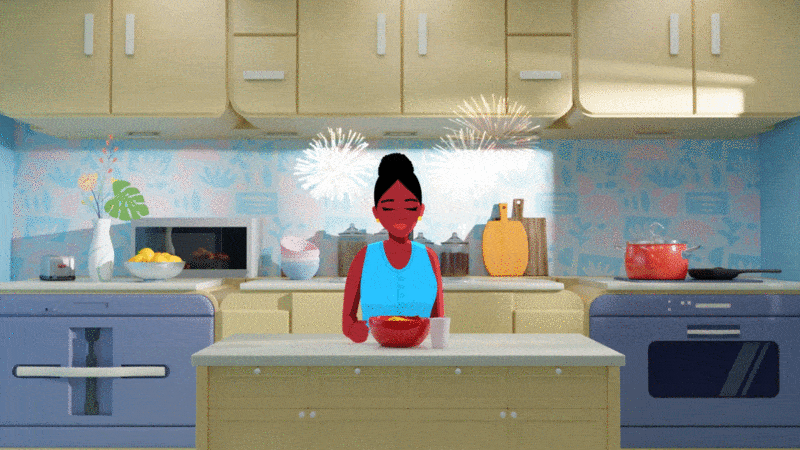 Playgrounds shares the stage with the community in a few different ways. There's just so much undiscovered talent out there! We know this, and that's why we decided to open up our festival to new and exciting talent. Come and check out these amazing young professionals:
Kanso Ogbolu is a self-motivated and resourceful visual artist from Nigeria with an ability to translate ideas into visual gold. He received a Bsc. in Architecture from the Kwame Nkrumah University of Science and technology, Kumasi, Ghana and worked with architectural and construction firms before moving on to advertising as a motion designer since animating was always a passion of his. He then rose to production manager and eventually moved on to become creative director of his own animation studio. He is a motion designer, 2D and 3D animator, illustrator, VFX artist and occasional filmmaker with over 13 years of experience in the creative industry.
Some of his notable achievements include mentions in the prestigious Luerzer's Archive Magazine, multiple awards and screenings at various film festivals for his animated and live action horror anthology series; Freak The Fxxk Out, as well as local and international creative awards for his contributions to various commercial productions.
Currently, he is a Masters student of Animation at the St. Joost School of Art and Design, Den Bosch
Juliana Erazo  is a Colombian visual artist, based in Amsterdam. She is a graduate of an Animation Master at AKV. St. Joost. Her work focuses deeply on reflecting the female experience in different contexts and cultures that make up different struggles: from body normativity, sexuality and motherhood. Juliana has been selected for the Next Talent Program, where she followed a tailor-made trajectory to boost her freelance practice and artistic journey. At the Talent Stage she will share more about her intensive work process regarding her animated documentaries and her strong engagement to cover social themes in her work.
Mackenzie Fincham is an American-Dutch animator and illustrator living in the Netherlands. Her aesthetic is different and exciting.
In 2021 she graduated with honors from St. Joost School of Art and Design with her animated short film Waan(Beeld), which was awarded with the Jeroen Bosch Ziekenhuis Award.
Mackenzie finds her own work the most compelling when it's expressive, colourful and connects with the viewer. She strives for her audience to identify with the surreal, but uniquely human narrative that she provides. She has also found a love for grittiness and texture, which gives her work tons of flavor and depth. She likes a raw edge and tries to see things from different (fish-eyed) perspectives.
Mackenzie sees a lot of potential in the horror genre and the nuance it can bring on topics like self-exploration and mental health. The genre translates misunderstood and often intangible subjects to tangible monsters and dangers for the audience to fear (and therefore, understand). She pairs these narratives with bold colors and layouts which guide the viewer's eye fluidly through the story. Mackenzie is currently working as an art and animation director for an Ultrakortproject, funded by the Nederlands Film Fonds. And she was selected for the Next Talent Program.
Zef Oosterhof has studied game art at St. Lucas in Eindhoven and is currently studying at the University of Northampton. In his opinion, art is all about capturing and sharing. Even though he calls himself a 2D-illustrator, he doesn't try not to limit himself to only one art medium. Each art form is a vocabulary that can help him to connect and share with other people. He enjoys combining old and new methods of creating and looking for a middle ground between analog and digital art. Characters tend to be the main focus of his work. They are effective at creating a connection with the audience. It is this connection that drives him. To connect is to share, and to share is to grow.
Alina Milkina is a Ukrainian film director and animator. While growing up in Eastern Ukraine, Alina used to watch a lot of USSR animation which influenced her future signature as a visual storyteller. She graduated from Minerva Academy in Groningen with a gravure printing techniques specialisation, where she started experimenting with analogue animation and storytelling spaces. She obtained the master's degree in AKV st. Joost in's- Hertogenbosch in animation. Her next step in her artistic development is supported by her selection for the Next Talent Program of Playgrounds and partners.
At the moment, after working for two years in the Dutch film industry, Alina returned to independent film making. As a visual story-teller she loves showing narratives which you can not capture in a daily life, but only depict through animations. She has been always challenging herself to be an animator who puts simple things and objects into the spotlight in order to show how unconventionally beautiful everyday life is.
Freelance Houdini FX artist / CG generalist Tim van Helsdingen is on our radar for some time now. Creating amazing work for clients such as Jaguar and Huawei, Tim also dedicates a lot of him time to create courses and tutorials. You have to check out his YouTube channel!
image header: Kanso Ogbolu
Thu 21 April
15:40-16:25
Alina Milkina
Juliana Erazo
Tim van Helsdingen
Fri 22 April
11:40-12:25
Mackenzie Fincham
Kanso Ogbolu
Zef Oosterhof