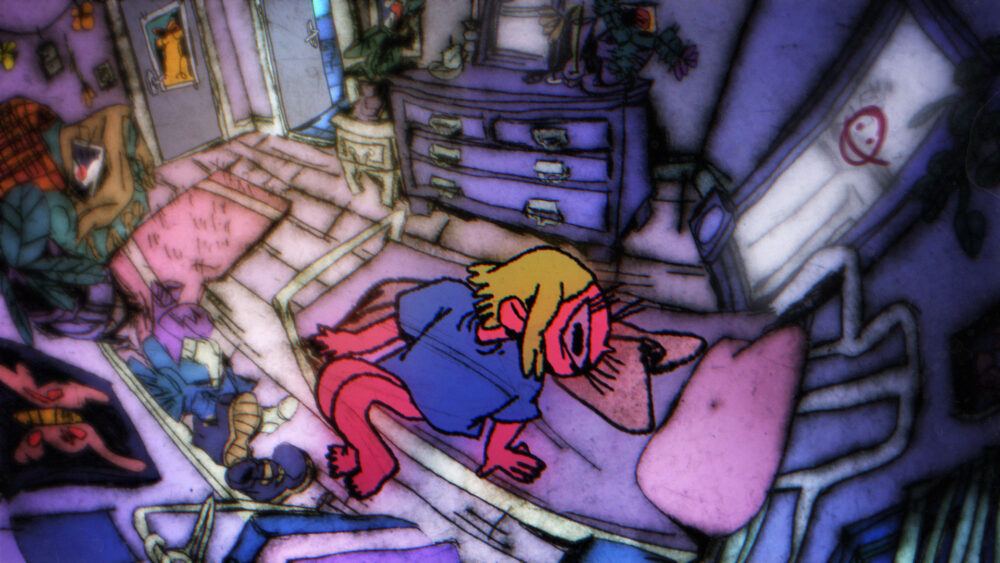 Always on the look-out for talents in all shapes and forms! Together with 8 partners Next is our answer to helping out and nurturing new talented creatives based in the Netherlands. It is a tailored-made talent program for those who make innovative creative visual representations and explore the boundaries of the moving image. We are super happy to announce 9 amazing creative talents!  
Alina Milkina 
Alina Milkina is a Ukrainian film director and animator, based in Netherlands. She aims to be an animator who puts simple things and objects into the spotlight in order to show how unconventionally beautiful everyday life is. Alina did the master animation at St. Joost. Her short film Morning Grass was selected for Annecy in 2021.
Angelo Raaijmakers 
A graduate of the St. Joost |School of Fine Arts and Design in 2015, Angelo Raaijmakers is a  filmmaker that skillfully combines commercial works with personal projects. Showcasing a very determined mind, Angelo has on the radar of the partners of Next.
Daniel Wesseik 
Daniel Wesseik is a multidisciplinary artist, focusing on filmmaking, experimental animation, illustration and typography. His films and works were present in various film festivals, museums and exhibitions in the Netherlands and around the world. His depictions of the strange and the unconventional, central in his practice, are extremely spectacular. His works are characterized by a playful and experimental approach and span over various mediums and techniques. 
Mackenzie Fincham  
Mackenzie Fincham is an American-Dutch animator and illustrator living in the Netherlands. She graduated with honors from St. Joost | School of Art and Design with her animated short film Waan(Beeld), which won the Jeroen Bosch Ziekenhuis Award.  She sees a lot of potential in the horror genre and the nuance it can bring on topics like self-exploration and mental health. The genre translates misunderstood and often intangible subjects to tangible monsters and dangers for the audience to fear (and therefore, understand). She pairs these narratives with bold colors and layouts which guide the viewer's eye fluidly through the story.
Matunda Groenendijk 
Experimenting in immersive storytelling is what keeps Matunda Groenendijk busy during the day and awake at night. Fascinated with environments where every tiny little detail contributes to a story, she also researches what audio can add to the mix. Consistently using the cross-over in music for her narratives, Matunda provides an exciting voice in the film and audio-visual environments. Her projects show-case a great poetical quality, while her technique is absolutely spot on. 
Rosie Zopfi 
At the moment Rosie Zopfi is working on a documentary for RTL and Videoland, but she also directs commercial videos. As a creator, she is always looking for a strong connection with the subject. She hopes to create projects that feed the soul, loving to tell stories that matter. Rosie is a director with a poetic eye, a sensitive approach and an interest in narratives that matter. Her works highlight a fascinating cross-disciplinary mix between documentary, fiction but also literature. 
Sonia Commandeur 
Sonia Commandeur is a filmmaker interested in examining the conflict that arises when different forms of identity don't overlap. She graduated from St. Joost | School of Art & Design in Breda. Her graduation project is a slice of life, coming-of-age story about the thirteen-year-old Donna who hides her personal identity in order to avoid the powerlessness she feels in relation to others. Sonia is fascinated by the human nature and the conflicts it can sometimes find itself in. Her artistry guides her towards the narratives that best reflect these ideas. Her film experiences are intense but extremely rewarding. 
Steffie Storms 
Steffie Storms is a visual artist born and raised in Tilburg. As a kid she always felt out of place, like a piece of a puzzle from another box. By drawing, writing and crafting she could view others with her perspective of the world. Today she still uses every medium to tell her personal stories.  Her style, use of cinematic language and stories she chooses to focus on are contributing to Steffie Storms' uniqueness. She calls herself 'an awkward artist from the Netherlands', we call her a great talent! 
Vera Savelkouls 
Vera Savelkouls is an illustrator, animator and screen print enthusiast based in Tilburg. She is very eager to discover different kinds of illustration by collecting and trying out various techniques like screen printing, tufting, embroidery etc.  In her works she likes to create worlds or make people conscious about current topics that are going on in the world. Vera Savelkouls does an amazing job polishing her unique-ness and mixing digital and analogue techniques. 
The Next Talent Program is a program initiated by Playgrounds and developed in collaboration with partners: The Panics, Submarine Channel , AKV|St. Joost, Herrie Film & TV, BROET, Natlab, Kaboom animation festival and Breda Photo.
Made possible by Province of Brabant, Kunstloc Brabant, The Netherlands FilmFund and Netflix