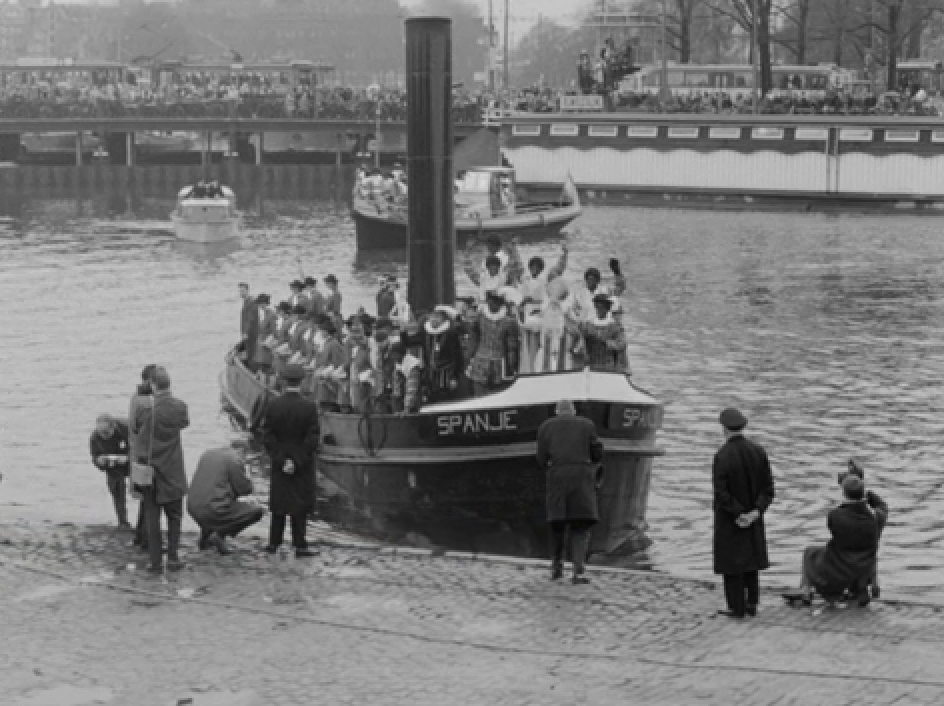 Filmmaker Festus Toll dove into the media archives of Sound & Vision to collect archival materials about a very controversial character in Dutch culture: Black Pete.
In his triptych 'The Black Pete Files -an archival essay about the birth, life and death of the traditional Dutch figure Black Pete' Toll researches the journey of Black Pete using footage from broadcasters and family films.
Once portraited as a friendly helper at the annual traditional children's party of Sinterklaas the character of Black Pete slowly gains more critique. It splits Dutch people into two groups. After all these years of action group Kick Out Zwarte Piet (Kick Out Black Pete) still has so much work to do. Controversy and heated discussions are still taking place during the time of Sinterklaas. When will Black Pete die?
This film essay – commissioned by Playgrounds and Sound & Vision – will premiere at In Motion. Toll is also doing an artist talk about the essay and about working with archival footage.
Festus Toll often brings together moral issues and the search for identity in his films. As an artist, director and self-taught editor, he aims to tell personal stories that carry a social urgency. His striking graduation film 'We Will Maintain (2017)' was nominated for the Pathé Tuschinski Award and the Special Jury Award at NFF 2017. That same year, the film won the TENT award for best video work by the Dutch art academies. The highlight was a world premiere at IDFA 2017 as the only Dutch student film of that year. His most recent production 'When You Hear The Divine Call (2020)' was screened at NFF 2020 and nominated for best directorial debut with the Filmprijs van de Stad Utrecht. At the moment he is working as the editor for 'Fortyun: Un Dutch' (directed by Menna Laura Meijer), and completed his latest film about the pending discussion regarding the restitution of looted African objects in European museums.
Commissioned by Playgrounds and Sound & Vision. Premiere at Playgrounds In Motion Rotterdam 2023.