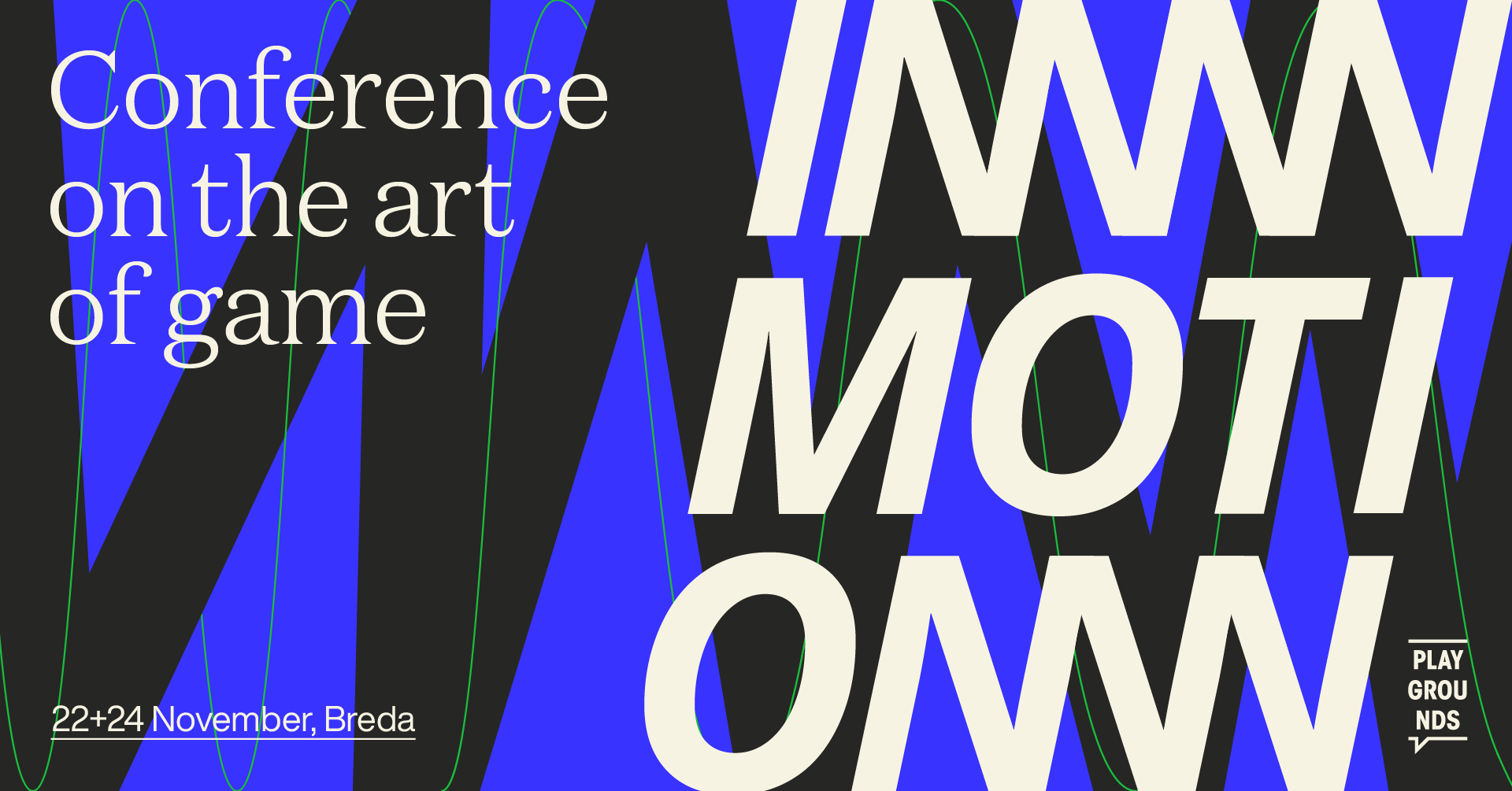 22 November 2023 - 24 November 2023 (Event has ended)
BUAS & St. Joost School of Art & Design
On Wednesday 22 and Fri 24 Nov Playgrounds is hosting an In Motion special in Breda, a conference about the art of game. Together with Breda Game City, Dynasty, BUAS, Avans Creative Innovation, St. Joost School for Art & Design, the city of Breda we deep-dive into the art of world building in games and the art of game design.
Next to the In Motion conference during this week other game related events are taking place in Breda during Game Week 2023. You can find the program here.
This event is fully booked, all seats are reserved!
Wed 22 Nov | 12.30-18.15 (including drinks) @ BUAS
Fri 24 Nov | 12.30-18.15 (including drinks) @ St. Joost School of Art & Design
Wednesday 22 November | Breda University of Applies Sciences (BUas)
Address: Monseigneur Hopmansstraat 2, 4817 JS Breda
12:30 – 13:00  | Coffee + Walk-in
13:00 – 13:35  | Environmental Design of The Last of Us | Danar Worya
13:35 – 14:10 | You Suck In Parking – The Almost Gone | Happy Volcano
14:10 – 14:45  | The Future of Game Development | Panel
14:45 – 15:15  | Drink Break
15:15 – 15:55  | Creature Animation in Games and VFX | Peer Lemmers (Guerrilla)
16:30 – 17:15 | Building the World Of Baldur's Gate | Panel by Larian Studios
17:15 – 18:15  | Drinks + Networking & Portfolio Reviews by Jort van Welbergen, Sava Zivkovic, Danar Worya, Peer Lemmers
Friday 24 November | St. Joost School of Art & Design
Address: Chapel, Beukenlaan 1, 4834 CR Breda
12:30 – 13:00  | Welcome + Walk-in
13:00 – 13:35  | Creating Monsters for Games and Animation | Molly Heady Carroll
13:35 – 14:20  | From Idea Towards A Game | Taraneh Karimi
14:20 – 14:50  | Drink Breal
14:50 – 15:30  | Design & Art for Games | Tomas Sala
15:30 – 16:05  | Building Worlds for Games and Series | Jort van Welbergen
16:05 – 16:45  | Storyboarding for game cinematics | Klaus Scherwinski
16:45 – 18:00  | Thank You + Drinks & Networking