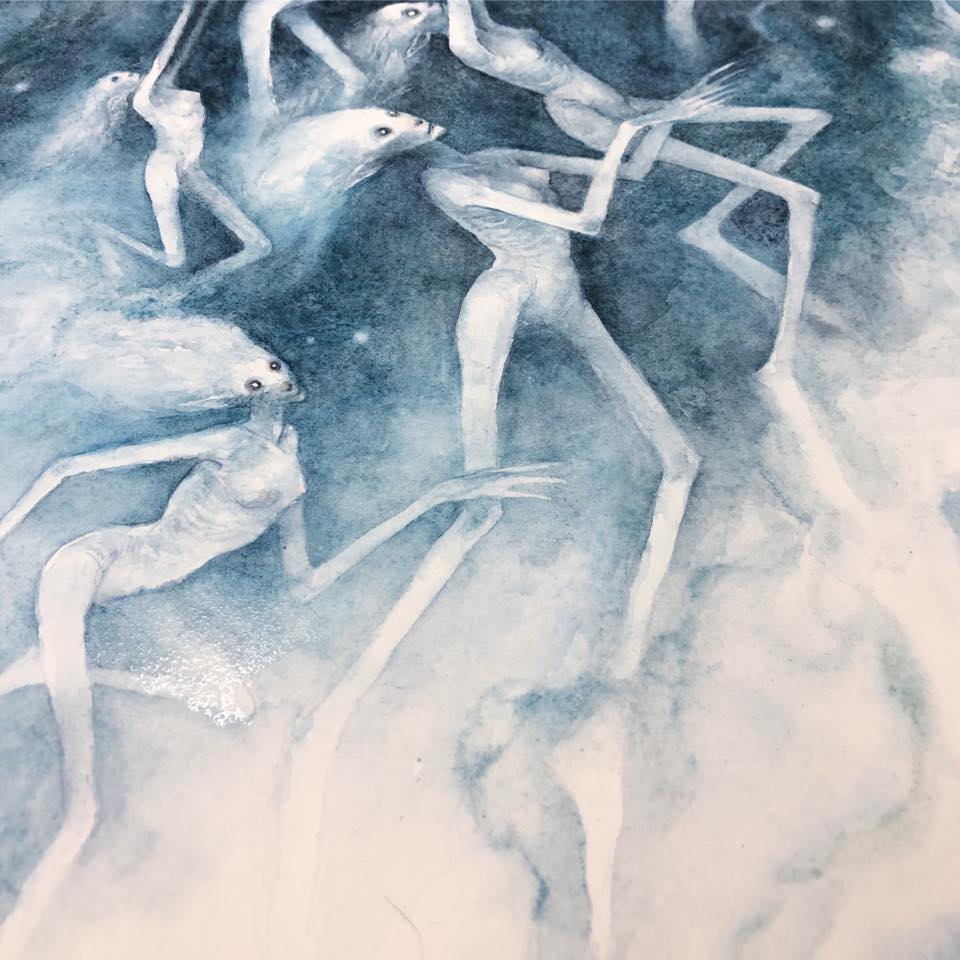 She's the epiphany of a creator of whimsical creatures. Mother of fairies, witches, elves and everything fantasy, Dutch artist Iris Compiet has distinguished herself as a true young talent to watch in the fields of illustration and character design. She has worked on the illustrations for Wizards of the Coast and Harper Collins' House of Furies, as well as illustrating an official Dark Crystal Bestiary. She also successfully funded her Kickstarter campaign for the publishing of her art book: Faeries of the Faultlines.
As a kid she knew she wanted to be an artist. She frequently took home from the library the 'Faeries' by Alan Lee and Brian Froud book and then copied all the drawings as best as she could given she was only seven years old. She devoured fairytale books illustrated by Rackham, craved stories about ghosts, vampires and all kinds of creatures that are hidden and later turned to actually drawing those characters that fascinated her.
Storytelling is an essential part of her artwork and, as an artist, she strives to lure in the spectators, to get them connected to the work and open a gateway to the imagination. Drawing inspiration from European folklore, mythology, fairytales, ghost stories and anything from tombstones, Victorian photography to popular movies and music Iris explores the depths of darkness to find the light.
Before embracing becoming a full-time fantasy artist, Iris worked as a graphic designer. She collaborated on projects ranging from picture books to gallery art, concept art and even sculpting. After having made the decision to become an artist, Iris also worked hard on developing her brand and getting her work seen.
Her personal project Faeries of the Faultlines was a huge success. It is an art book filled with sketches and full color pieces accompanied by short stories taking readers on epic journeys. The book's intro was written by pre-eminent faerie artist and an authority on faeries and faerie lore: Brian Froud.
She has recently finished illustrating Insight Editions' upcoming The Dark Crystal Bestiary: The Definitive Guide to the Creatures of Thra.  It explores many fantastical denizens from the film, the Age of Resistance TV series, and the books and comics. The project gave Iris the chance to reimagine characters created by Froud himself, an artist she highly esteems and considers a massive inspiration for many fantasy specialised illustrators.
Aside of this project she is also working in a yet-untitled Netflix show, as a visual developer.
In 2018 she joined The Art Department stage with a very inspiring and honest talk about her mistakes and failures in her career. She returned for The Art Department 2020 where she was interviewed by our very own director Leon van Rooij and joined our panel discussion about online presence.