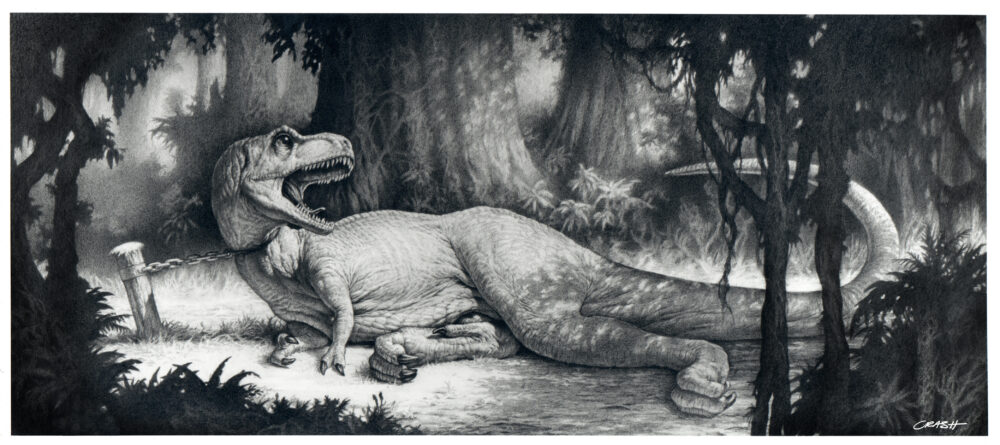 Crash McCreery is an Academy Award nominated creature designer, production designer, visual consultant, and illustrator who has created iconic characters for the original Jurassic Park and its two sequels, the first three Pirates of the Caribbean, A.I. and many other blockbuster feature films. We feel incredibly blessed to get insights into his amazing career during The Art Department Berlin!
Crash studied at Art center College of Design. After graduating, he worked at Stan Winston Make-Up Effects Studio as lead artist for 11 years.
From an early age he delved into the study of Paleontology and soon found the marriage between factual science and the powers of the imagination to be the perfect testing ground for creating what was once only a world of fantasy. Crash made the proclamation that, when he grew up, he was going to 'do dinosaurs.' A wish that actually came true when he got to work on the first installments of the Jurassic Park franchise.
Among interesting facts concerning that production was that Crash worked in solitude on his concepts and rendered dinosaurs for an entire year, because the project was cloaked in secrecy in its early stages. Once the film went into actual production, Crash served as an on-set puppeteer, breathing life into the prehistoric characters through radio-and cable-controlled performances, as well as performing as the Raptor he designed, donning the full size Raptor suit himself.
He has also worked as a production designer on the animated film Rango as well as collaborating on other feature films like Edward Scissorhands, Terminator 2, Galaxy Quest to name a few.
Among his many achievement is the fact he also formed his own company, Calypso Productions and has been freelancing ever since. He is currently Head of the Art Department for Universal Monsters at Universal Studios.
During his talk at The Art Department, Crash will be talking primarily about character design for film, referencing Pirates of the Caribbean, Rango and Jurassic Park.
He will be talking about his process as well as his views on how the industry has changed in the past 30 years.
We feel so lucky to be able to learn from his extensive experience!