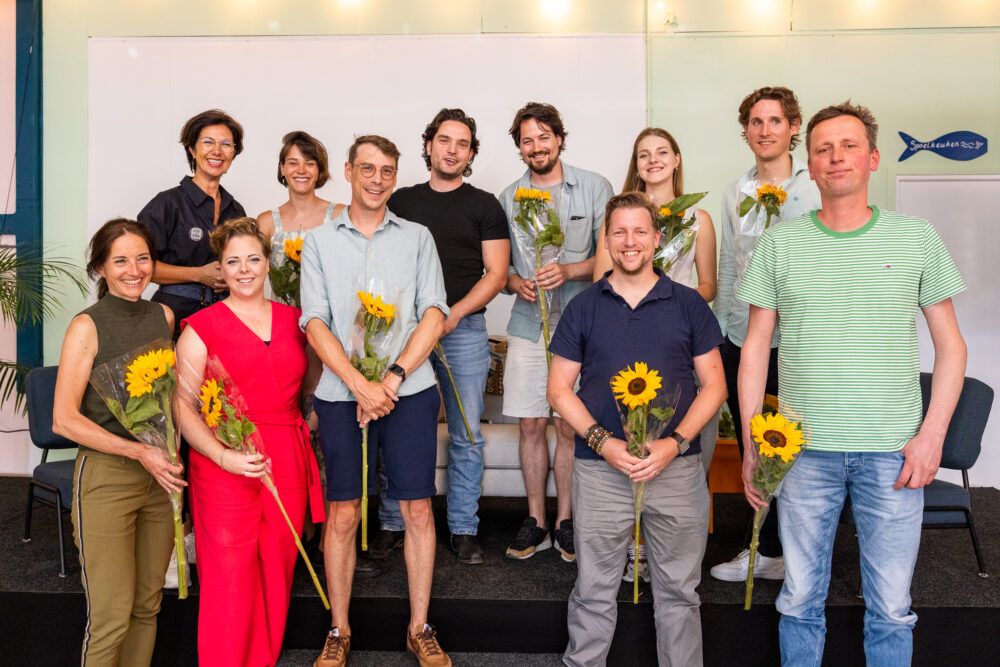 3 short films and 2 mid-length films from the region selected for development and production project The Promised Land (Het Beloofde Land).
Monday 19, State Secretary for Culture and Media Gunay Uslu announced the film plans that will go into production within the development and production trajectory The Promised Land.
During her working visit to Screen Talent NL  and to Playgrounds in Eindhoven, the makers and producers who can now start realizing these films after developing their plans were announced.
The Promised Land (Het Beloofde Land) is a development and production project for filmmakers throughout the Netherlands. For this first (pilot) edition of Het Beloofde Land, it specifically involves makers and/or stories rooted in one of the following regions: Limburg, North Brabant, Drenthe-Friesland-Groningen.
Screen Talent NL was looking for ideas for short fiction productions (8-13 minutes) and mid-length fiction productions (Limburg, North Netherlands only, 40-50 minutes) around the theme 'The Promised Land'; urgent, contemporary and idiosyncratic stories rooted in today's rapidly changing society and world. It also sought (aspiring) producers from the regions of Limburg, North Brabant and Drenthe-Friesland-Groningen, who wanted to delve further into the (AV) production profession and act as producers for the eventually selected film plans. For both filmmakers and producers an extensive coaching trajectory was developed.
The selection committee on the selected films: "Within The Promised Land, 16 film plans have been developed, covering a wide range of stories and perspectives from the three regions.
Stories about housing shortages, farmers, carbide shooting, refugees and climate change, among others. Universal topics we are all familiar with, but this time told from regional perspectives. This is what makes The Promised Land so surprising and refreshing. The makers have succeeded in showing that there are many urgent stories to be told in the regions.
The passion and ambition of the makers are palpable in the film plans and have managed to touch us with their vision. We are therefore delighted to have been able to select these 3 short films and 2 midlength films. In addition, we also definitely look forward to the development of the other plans, as we also saw a lot of potential and talent in them."
The selected film plans and their makers are:
Short films
Limburg
Blin Fiducie – directed by Luka Kluskens, produced by Vincent Konings (Kingswood Films)
North Brabant
Shelter (Onderdak) – directed by Maarten Sleegers and Anna Sherstiuk, production Pim van Gorp (Fabel Film)
Groningen, Friesland & Drenthe
Baarch – directed by Rutger Veenstra, production Bart Dokter (Vitruvian Man Films)
Mid-length films
Limburg
America, Amerika – screenplay Lianne Damen, direction Floris Ramaekers, production Charlotte Driessen (Harpy Films)
Groningen, Friesland & Drenthe
Stien Blom – directed by Thom Lunshof and Sam Dijkstra, production Marrit Greidanus (Makaki Productions)
Screen Talent NL is the network of talent hubs for film & AV, consists of CineSud/Limburg Film Office (Limburg) CineNord/New Noardic Wave (the northern provinces) and Playgrounds/Next (North Brabant).
These talent hubs have been working for more than 10 years to create a vibrant regional film and AV climate. Filmmakers and film producers from the region tell different stories and contribute to an inclusive and sustainable film landscape.
The Promised Land is made possible by the Netherlands Film Fund, Limburg Office & We The North, Prince Bernhard Culture Fund, CFAP and Province of North Brabant.