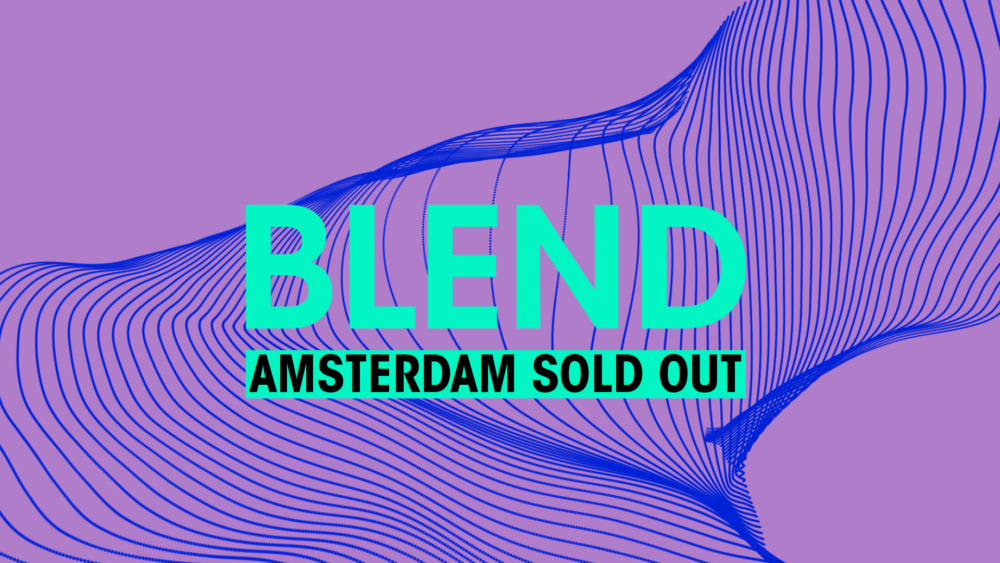 It's BLEND week and we couldn't be more happy to announce BLEND Amsterdam is officially SOLD OUT! Big Thank You to all ticket-buyers who made this happen. We can't wait to meet you all in Eye Filmmuseum on 3+4 November!
Interested in some program highlights? Just to make sure whose talk you don't want to miss? Check out our BLEND line-up in a nutshell.
YOU+PEA (UK) – AMSTERDAM 
Architectural design studio that explores the integration of videogame technologies into architectural design.
LE CUBE (ES/AR/BR) – AMSTERDAM
A studio that creates character-driven animations in 2D and 3D. Worked with Uber, Spotify, Nike and Magnum.
ZEITGUISED (D) – AMSTERDAM
Digital art practice spanning its own genre defying work spaces. Known for their art projects The Zoo, Peripetics and geist.xyz
PART OF A BIGGER PLAN (NL) – AMSTERDAM
Founder of the studio 'Part of a Bigger Plan' Christian Borstlap will join us in Amsterdam. Christian is specialized in advertising, concept development, and digital communication. Collaborated with Louis Vuitton, Artis and Het Rijksmuseum.
TARANEH KARIMI (IR/NL) – AMSTERDAM
Character designer and visual development artist. Currently working as a freelancer for Netflix and has an enormous online fandom.
PHYGITAL STUDIO (NL) – AMSTERDAM
The studio explores forms by digitally altering physical objects and physically manipulating digital material.
THONIK (NL) – AMSTERDAM
Collective of designers specialized in visual communication, graphic identity, interaction and motion design. Worked for:  VPRO, De SP and Yoni, among others.
THE PANICS (NL) – AMSTERDAM
Our longtime friends, The Panics will join us in Amsterdam to present and discuss some of the studio's projects such as Liberty Global, Garena Free Fire and Azul.
DANIELS (USA) – AMSTERDAM
As any music videos aficionado might be able to tell you, Daniels have a unique storytelling style equally mind-blowing and addictive. In the past years they have successfully transitioned from shorter to feature length projects, with their latest project Everything Everywhere At Once considered considered one of the most original and creative indie feature of 2022.
ARI WEINKLE (USA) – BREDA + AMSTERDAM
Known for his artistic explorations breaking apart and re-appropriating different forms and objects. Collaborated with Apple, Adobe and Nowness among
others.
LORENZO FONDA (I/USA) – BREDA + AMSTERDAM
Filmmaker and multi-media artist, recognized for his surreal storytelling. Creator of the spectacular documentary Megunica.
NGADI SMART (UK/IC) – BREDA + AMSTERDAM
Visual artist working with illustration, photography and design. Had works featured in The Atlantic, The Guardian, Vogue and I-D Magazine.
LOIS COHEN (NL) – BREDA + AMSTERDAM
Award-winning photographer whose works smash the archetypes, and shine a light upon the eccentric and the underdogs.
STUDIO BIRTHPLACE (NL) – BREDA + AMSTERDAM
Creative studio with a focus on raising awareness through their works. Collaborated with Greenpeace and Woolmark among others.
FONS SCHIEDON (USA/NL) – BREDA + AMSTERDAM
Director, designer, artist easily switching between live-action and animation. Has worked with Beyoncé, FKA Twigs but also on Michelle Obama's Netflix documentary 'Becoming'.
SHAYSHAY (UK) – BREDA + AMSTERDAM
Japanese/Irish writer, director, choreographer and drag artist, with work spanning theater, queer cabaret and shows for children & families.
DRIFT (NL) – BREDA
Studio whose works inspire audiences to reconnect with our planet. Their installations have been exhibited at The Shed NYC, Stedelijk Museum, Art Basel, Victoria & Albert Museum and Burning Man.
MICHELA PELUSIO (I) – BREDA
Art scientist, sculptor, performer and Independent curator. Works with installations and multi sensory performances.
Haunted by FOMO? As you see, some of the artists joining us in Amsterdam are part of the BLEND Breda line-up as well. And the good news is, we still have some (not many!) tickets for BLEND Breda, on 2 November, available here!