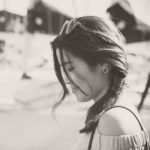 Illustrator Yukai Du is originally from China but now resides in London after graduating from Central Saint Martins. Her illustrations, gifs and animations have a beautiful grittiness about them. Yukai did an artist talk about her way of illustrating at Blend 2018.
A recurring theme in her work is technology and her dependence on it. Her domestic and everyday worlds have a surreal edge where tech gadgets and the digital revolution play the leading roles. A beautiful contrast with her textured style, that refers to the analogue world.
As she studied animation, which mainly involved making other people's work move, and only after a while then she started creating her own visuals. She tells It's Nice That about the development of her style: "During my studies I illustrated a lot in my free time," she explains. "It took a while before I felt comfortable animating my own work, but animating itself has always felt really natural to me."
Her moving from China to the UK had a huge influence on her work. She started to see things from a different perspective. Literally J "People in Europe are much taller than me," she says. "I don't really know how it happened, I just started to draw people with a really small head and a really big body."
Yukai's pieces have a distinct style. She's not afraid to use vibrant colors and adds thousands of tiny stripes and dots to her images, giving them beautiful texture. Little wonder then that Yukai has been commissioned by TED Education, The New York Times and The Guardian, nor that she has won some of the most prestigious awards around, including the Adobe Design Achievement, D&AD New Blood, and the World Illustration Awards.