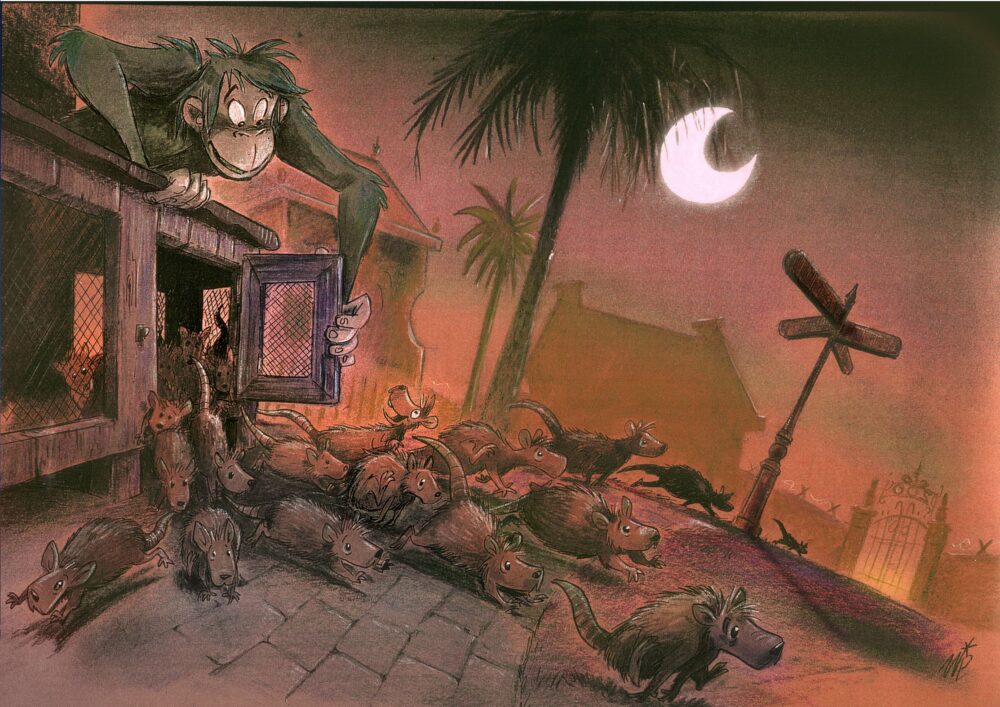 During a 25 year career in feature animation, Wilbert Plijnaar contributed to movies like Ice Age,  Despicable Me, Minions, The Secret Life of Pets among many others. He is also known for his work in Dutch comics, having contributed stories to the weekly Donald Duck Magazine and as co-writer of the long running 'Sjors en Sjimmie' series.
Wilbert Plijnaar started his career working for Donald Duck Weekly in 1972. He wrote and illustrated several stories with characters like 'Gus Goose', 'The Big Bad Wolf' and 'Little Hiawatha', and illustrated numerous covers. In the mid 1970s, he moved to the weekly comic magazine 'Eppo' , where he and Jan van Die began writing scripts for the Sjors en Sjimmie comicstrip, modernizing the series and turning it into a success that spun a weekly magazine with the same name. Together with artist Robert van der Kroft, they restyled this classic comic by introducing contemporary themes and focusing on short gags instead of long stories. The same trio then also produced the 'Claire' comic series, published exclusively in the women's magazine Flair.
In 1988, Plijnaar, together with Van Die and Van der Kroft, were awarded a 'StrIpschappenning' (Dutch Comics Medal) followed in 1995 by the most important Dutch comic award, 'The Stripschapprijs'.
In 1985, Wilbert Plijnaar meets Hans Buying of the Comic House Agency, setting the grounds for a very successful collaboration. Through a span of ten years, the duo works together on dozens of animation productions per year, rapidly making Comic House one of the largest animation producers in the Netherlands. Plijnaar contributions there are as concept developer, storyboard artist, lay-out designer, background painter, and (co) director.
In 1995, he is hired by Warner Bros and moves to Hollywood to work as a story artist. Since then he contributed to animated features such as Quest for Camelot, Osmosis Jones, Jimmy Neutron Boy Genius, Three 'Ice Age' movies, Over the Hedge, Disney's 'The Princess and the Frog', 'Horton Hears a Who', Despicable Me 1&2, 'The Grinch' and a slew of others.
In 2019, his biography "Rotterdammer in Hollywood" – Written by Peter de Wit ( Sigmund) appeared. The image of Plijnaar that emerges from this coffee-table book full of testimonials is of someone with an unstoppable flow of ideas and jokes, who is too much of a perfectionist to build a large body of work for himself – "The logical consequence was to contribute ideas that were worked out by others," he tells, "so that the responsibility for the final product did not rest on my shoulders. Otherwise it never would get finished."