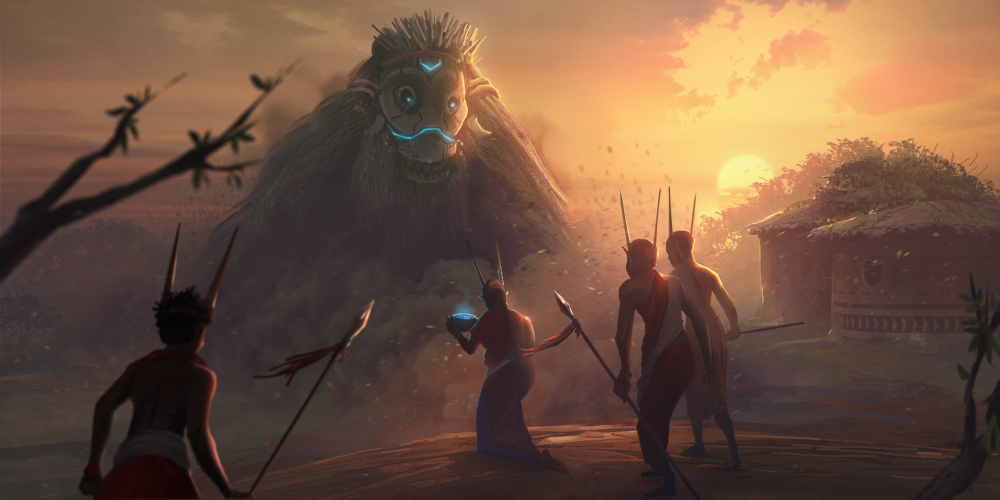 Based in Lagos, Nigeria, digital artist Godwin Akpan is a true testament of how far you self-teaching and pure determination can take you. Despite having a college degree for art, Godwin attributes most of his learning and skills-polishing to online resources such as YouTube tutorials and Schoolism courses. The result? He now works full-time as an illustrator and concept artist creating breath-taking designs for companies like Anthill, Youneek, Triggerfish and Silverrain Games in partnership with EA originals.
Talking with Apex Magazine about the way he approaches his design, Godwin says: "It is often said that a picture is worth a thousand words. So, when I am creating my illustrations, I have to think like a writer. Whether I am creating characters or environment, I am constantly trying to think of the story surrounding the image I am creating. A big challenge is the temptation to create something completely new—something no one has ever seen. While that is possible, it is not always the best course of action. You don't ever want to alienate your audience, so while creating fantasy images, I always build upon what exists, so it is easily relatable. Instead of inventing a completely alien creature, why not take a common, recognisable animal and add your own little touch? For example, a unicorn: this is just a horse with a horn, but it's still a fantastic concept."
A recurrent theme in his designs is the appearance of mega structures. When addressing this issues Godwin candidly gushes: "It's funny because I haven't actually been around the kind of epic-scale structures I put in my paintings. Every time I paint one of those, I always imagine myself in a similar place. I'm hoping that in the future, when I have more time on my hands, I'll visit all the great places that have huge monuments, such as the Sphinx and pyramids in Egypt, even the Statue of Liberty in New York City." A real proof of his visionary mind!
Godwin is currently working on Iwaju- a collaboration between Disney and Kugali.