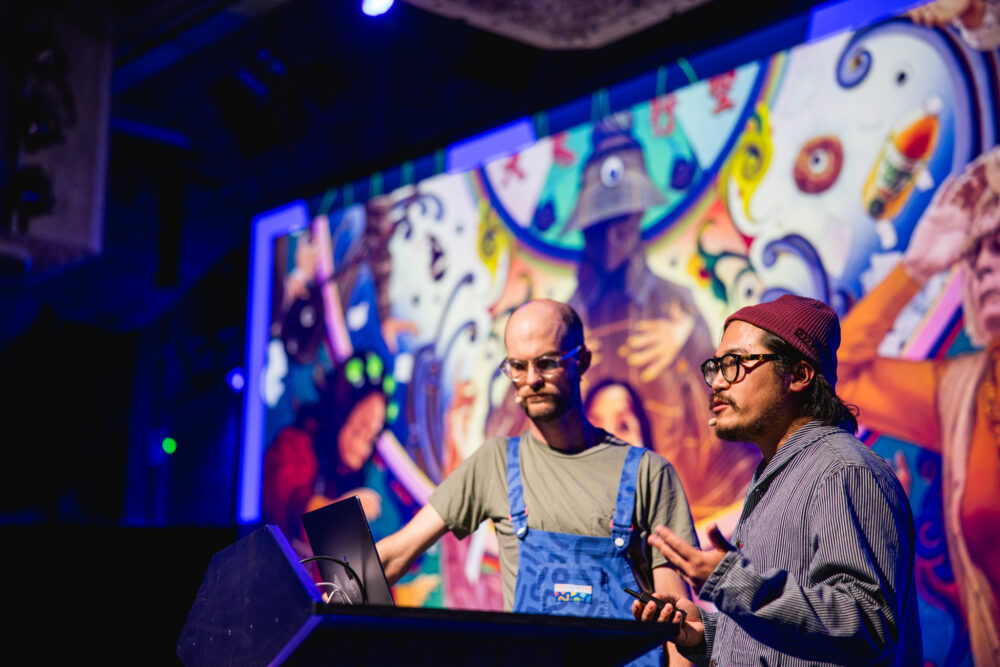 Hard to believe but a week has already passed since our In Motion Rotterdam adventure. The memories are so vivid and palpable it feels like we're still there, in Maassilo Rotterdam, switching between stages or taking breaks in the Procreate lounge.
How to describe the experience? How to put it in words? Which photos to select that best showcase the magic? What shots to put in the aftermovie to do the event justice? Not an easy to achieve task because you simply had to be there.
As the first day of the festival already suggested, many of the talks revolved around feeling comfortable in one's own skin, finding joy in the work but also supporting fellow artists.
"We have to love ourselves" mentioned filmmaker, music video director and performer David Wilson in his talk. "We live many different lives. Sometimes sections can feel difficult, isolating. But that is also because they are actually transitions to other stages. In such moments I needed to make animations feel like a dance, to make them flow out of me and thus use them therapeutically."
The connection between experiences and creating artworks was also highlighted as a strong asset of human creators in the Perspectives on AI panel. "No machine can put the experiences of life with all its joys and sorrows in an artwork like an artist can" said sound designer Diederik van Middelkoop from Amp Amsterdam. "Whatever tool you use, just make sure you're putting yourself, your ideas and expressions in it" reinforced production designer Patrick O'Keefe.
"Industry developments are never going to influence why we tell the stories we tell, only the way how we tell them" is also an idea expressed by Daniels in the last talk of the festival. "What the world needs is for each of us to find fulfilment in our works" they concluded before receiving a standing ovation (our very first!) from the entire audience.
One could argue that much of the festival revolved around The Riot Club Reunion. Indeed, it was quite special to get in the same place Daniels, David Wilson, Julia Pott, Kirsten Lepore, Mikey Please and Tom CJ Brown. It was inspiring to attend their talks, enjoy their panel and simply see them having fun.
But underneath it all, it was inspirational to see their support of each other. "I almost quit halfway through each of my projects, if it weren't for my friends and family. So make sure you find a community and lean on each other!" mentioned Kirsten Lepore during her talk. And indeed, walking in the room during David Wilson's talk, you could literally stumble over Mikey Please sitting on the ground with his laptop, probably revising his Panic Room presentation but not wanting to miss his friend's presentation (for those wondering, a chair was offered to him, but he felt more comfortable on the side).
During the afterparty, each of them left all seriousness and vulnerability aside, grabbed a fluffy silly costume (yes, rainbows, unicorns and coloured inflatables were spotted!), some of them even got up on the dancing pole and partied like there was no tomorrow. And sure, it was wild and fun, but in the same time it was  beautiful and heart-warming to see this display of friendship.
It was our (and we hope our audience's as well) biggest takeaway. This feeling of support. That with friends and/or a community behind you,  you can really go ahead completely outside your comfort zone, strip all your fears, attempt the impossible and imagine everything!