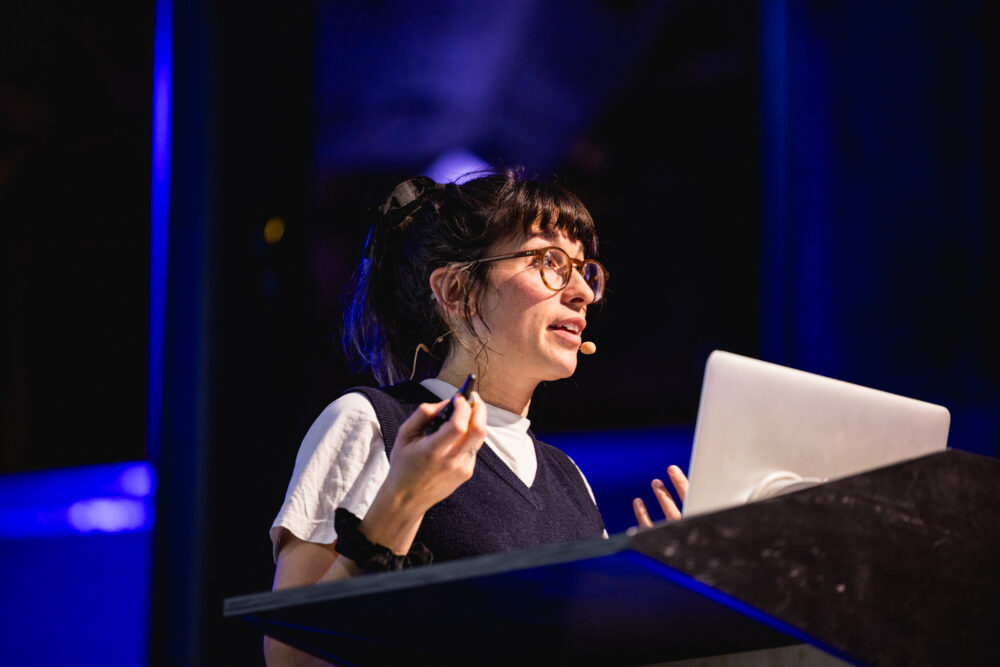 What an exciting and inspirational first day! What a warm welcome in Rotterdam! Lovely to see so many new faces among the visitors of our fest but, in the same time, spot also people that continue to support and be at our side regardless of the directions we decided to take a leap of faith in.
Whether them being returning volunteers, supportive partners or guest artists that have continued to come back and take the stage at our events, it was comforting to have them alongside this new adventure In Motion. A time to tackle the "new", enjoy the "old" and embrace the "fun"! Everything spiced up with insights and inspiration.
Enjoying the process and creating while having fun were recurring themes approached in several of the talks. Kicking-off the fest, animation studio Animade clearly took a stand with regards to this when they gave an audience member control of their presentation. Three people were also invited to come on stage and play a hilarious game and yes, there were also fun prizes being handed out. Later in the day, they walked us through their pet-project Frames, a tool everybody can test right on our Discord channel.
"If it's not fun then why do it?" was also one of the takeaways from Studio Mals's artist talk, in addition to their brilliant portrayal of the stages of the creative process.
Filmmaker Robert-Jonathan Koeyers added to this unofficial conversation the invitation for young artist to stop making works for teachers (or other people) and simply creating them for themselves. "Things don't need to be perfect, they just need to be" Robert said. He also discussed his own journey to embracing and accepting the niceness of simply being here, present and feeling good in one's own skin.
Those who attended the panel Expressing Queerness in Visual Language could see the discussion becoming more nuanced but further elaborated on, with cinematic examples from each of the guests inspiring but also making them more comfortable with themselves.
What was very beautiful to see coming through, and in a way contributing to the idea of gaining confidence, was also the idea of artists supporting each other. Robert Jonathan-Koyers very nicely talked about a past Playgrounds talk of Kevin Dart inspiring him to give a name and find a theme for his current presentation.
Animator Tom CJ Brown and studio Antfood which had simultaneous talks but on different stages, each gave shout-outs to each other, having collaborated on the Christopher at Sea short film. And of course, the Riot Club, featuring Daniels, David Wilson, Mikey Please, Tom CJ Brown, Kirsten Lepore and Julia Pott, were all seated front row at each others' talks.
In the end Across the Spider-Verse production designer Patrick O'Keefe brought us full-circle to the fun-factor that should be present in all creative projects. "We make films not just for the end result but because we also enjoy making them." Given his talk was followed by the infamous Reunion of the Riot Club featuring lots of jokes, giggles, drinking challenges and scenes from an epic Terminator 2 remake shot ages ago by the panelists, we really ended things on a high note (no pun intended!).
Was our new partnership with Maassilo Rotterdam a "match made in heaven"? While we won't get ahead of ourselves and answer this (especially with a full day of program still to go) we can say the first day of In Motion Rotterdam went by surprisingly smooth and even the unplanned happenings were swiftly sorted out. It was a good day in Rotterdam, that's for sure!