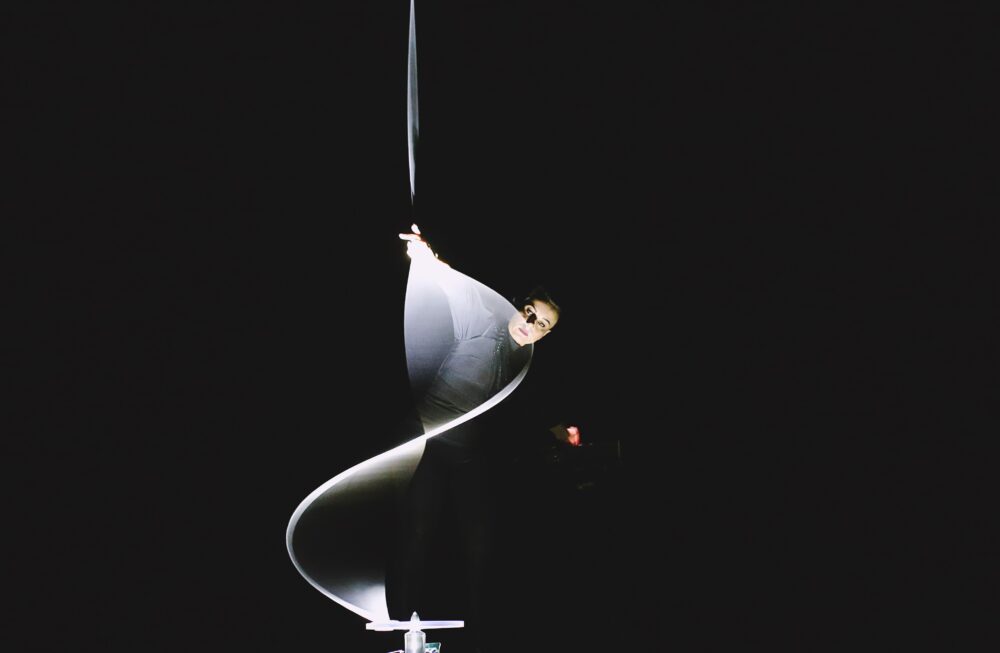 Michela Pelusio transforms spaces into mind-blowing experiences through immersive installations and multi-sensory performances. The experience questions the possibility of an intimate connection between the participants and nature, triggering astonishment and new perceptions of natural phenomena. Michela will be bringing her breathtaking opto-acoustic instrument SpaceTime Helix to Breda.
Michela Pelusio creates immersive audiovisual performances, installations and kinetic scultpures. Her research explores human perception, physical phenomena, art, and science.
Michela Pelusio performs and exhibits worldwide at spaces such as NXT Museum in Amsterdam, Onassis Foundation Theater, Bozar Center of Fine Arts Brussels, Max-Planck Institute of Astrophysics in Munich, all Mutek festivals in the world, Chroniques Biennale des Imaginaires Numériques, Gmem Center National de Création Musicale in Marseille, TodaysArt festival in Den Haag, Electrones Libres at Stereolux in Nantes, Miraikan The National Museum of Emerging
SpaceTime Helix is a site-specific audiovisual performance with an opto-acoustic instrument designed by M. Pelusio in 2011 and  performed since then all around the world. It is a giant spinning standing wave in a white string, forming a large helicoid up to the ceiling. The surface is bright and transparent, with waves running over it, disappearing into the future, more and more distant in space-time. A white string, a line, a boundary, twists into a giant spinning standing wave, a large helicoid uniting earth and sky. 
SpaceTime Helix explores helical symmetries and infinity, frequencies and geometry, elementary particles and quantum physics, sonic visions and perceptions. This work is a metaphor for the return to the root of things, and to the simplicity and the complexity of the macro and microcosmos, the internal and external space, the architecture of the mind and the architecture of nature.