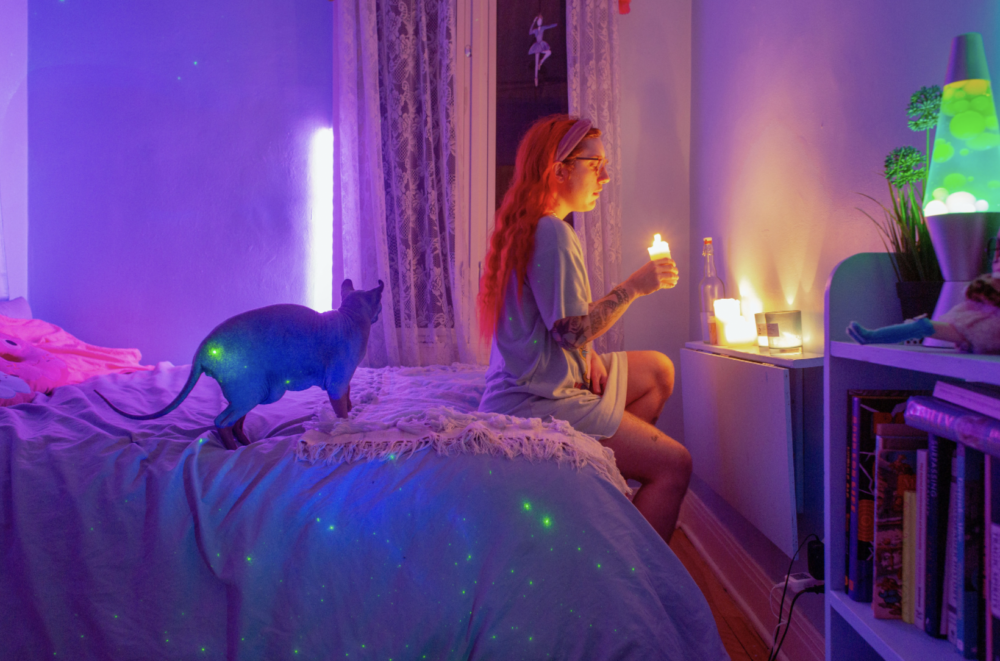 With their latest Playgrounds Eye Candy, our editor Jesse van den Berg showcases the spectacular works of photographer Laurence Philomene. Eclectic colors infuse their works inspired by personal experiences as a chronically ill transgender person, making the projects ooze a mesmerising vulnerability.
Jesse: "I admire Laurence work firstly because of the open vulnerable visual translation of their life. Sharing moments that are important for them while inviting the viewer to be present in a tender way. The way in which Laurence shares their proces as a transgender person and celebrates their transition with photography is something that I find really beautiful and important. The importance also lays in the fact that Laurence in this case tells their own (visual) story as a trans person themselves. Taking the space and agency what does not always happen when stories about trans people get represented.
The visual language of Laurence is very outstanding to me. I love how they create such colorful settings. It's also interesting to me personally to see someone that shares moments of intimacy and vulnerability but with a very different visual language then I do myself or what I see with other photographers. It creates a visual language that really stands out but it also makes me take more time to look at their work."
"I also feel a lot of love watching the work of Laurence. It's the combination of the colorful color pallet, the vulnerability, the power and the soft gaze how they portray themselves, other people and moments. They also describe their work as 'a love letter to their community' what I think is a great summary."
Laurence Philomene is a non-binary artist from Montreal who creates colourful images and video work informed by their lived experiences as a chronically ill transgender person. Their practice celebrates trans existence and studies identity as a space in constant flux via highly-saturated, cinematic, and vulnerable images. Laurence is an honouree of The 30 ("PDN 30" – 2020), recipient of the Getty Images Creatives In Quarantine Bursary (2020), the Lucie Foundation emerging artist scholarship (2019), and the 2020 Women Photograph mentorship program. Their work has been presented in numerous exhibitions and publications worldwide, including solo exhibits in Canada, France, Germany, Poland and the USA.