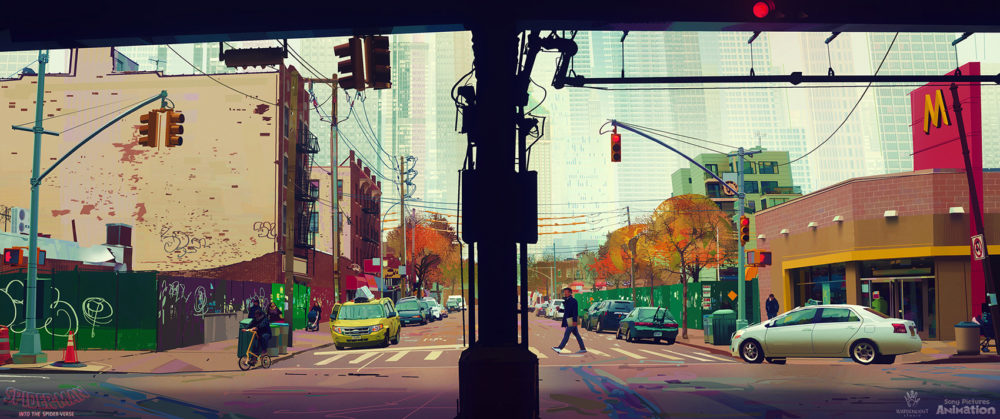 Bastien Grivet is co-founder & art director of Wardenlight. The French studio is  specialized in visual development for AAA video games, films, commercials and much more! Founded in 2013 they worked with brands such as Hennessy, Laservision, Coca-Cola, Dell, Ubisoft and Warner Bros Pictures right before scoring one of their biggest hits: working on Spider-Man: Into the Spider-Verse.
Wardenlight Studio is the love-child of Jessica Rossier and Bastien Grivet. Jessica is often in charge of the paperwork and the customer relationship, but she works as a concept artist as well with Bastien. She has been working in the industry for over nine years. First starting as a freelancer, she opened her own studio, called Jess Studio. After partnering with Bastien they engaged on a new adventure with Wardenlight Studio.Her favorite technique is photo manipulation. She loves working with great photos, stretching them, cutting and painting on them. She thinks that as there are lots of photo material libraries available on the internet we should make use of this resource. She also works sometimes with 3D software, often for specific things like spaceships or furniture or complex architecture etc.
Switzerland born, Bastion Grivet is the art director and concept artist at the Wardenlight Studio. When he was 15-years-old a teacher suggested he should go and study at Decorative Art School of Geneva. After passing the exam, heavily influenced by Jurassic Park, he took the digital and multimedia courses with the hope of discovering the magic of 3D models. Eventually, he moved onto drawing in Photoshop. By the time he was 25 he successfully managed to work for Activision, Warner Bros, Treyarch, Ubisoft, not to mention Louis Vuitton and Hennessy. He was also one of the artists that formed the style and look of the futuristic Call of Duty Black Ops III.
Bastien Grivet has joined us for an artist talk at the online edition of The Art Department in 2020 During his talk Bastien talked about personal ways to be inspired and work during confinement time.
The talk was made possible by our principal sponsor Procreate.
When talking about a great advice they received, Jessica Rossier mentions: "In 2015 Bastien and I were pleased to meet Iain McCaig at a festival. We truly admire this amazing person and I think he gave us some of the best advice we had ever heard – "do a personal project, it's a nice way to see the best part of who you are as an artist". All you have to do is be passionate about what you love creating and show it on the web and it will always reach someone who is interested in your art. Try every day to be better at what you create and don't let anyone tell you that you cannot do it."