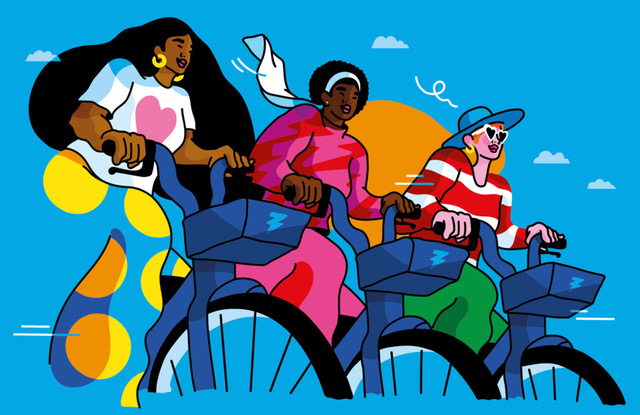 You can always count on our editor Iris van den Akker to put in the spotlight super creative female artists. With her latest Eye Candy pick however, she also show-cases an artist that creates empowering, strong and very recognizable works. A true visual feast, rejoice at the artistry of Xaviera Altena!
Iris: "Xaviera's work is ultimately recognizable. This weekend I walked around in Rotterdam and saw her work on a window of an upcoming Coffee Company location. Without looking for her name, I instantly knew: 'that's Xaviera Altena's work'.
Her work is flat, with the same, strong color palette. Her characters often wear stripes or polka dots. Xaviera uses a bold, black outline and wiggly lines in her work, and dots for eyes. But it's never boring. Her work is fresh, yet nostalgic at the same time. It reminds me of '90s comics, set in 2021. I think it's very impressive to be able to create such a strong visual language as an artist, while remaining fresh and interesting."
Xaviera also curates and manages Brainstorm Radio, an online platform full of music track-lists by creatives. Hours of tracks are listed there, created by creatives all over the world, to make long hours in the studio or office less dull and, hopefully, alters the way a person perceives the world."
Xaviera Altena is a Rotterdam-born illustrator currently living and working in the city. Her interests include 90's pop culture and being an amateur chef, but, above all, she has a strong passion to address social challenges.
She illustrates them using bold lines and a variety of bright colors. Her clients include: Die Zeit, Hermès, The Guardian, The New Yorker, MullenLowe, McGarrah Jessee and more.