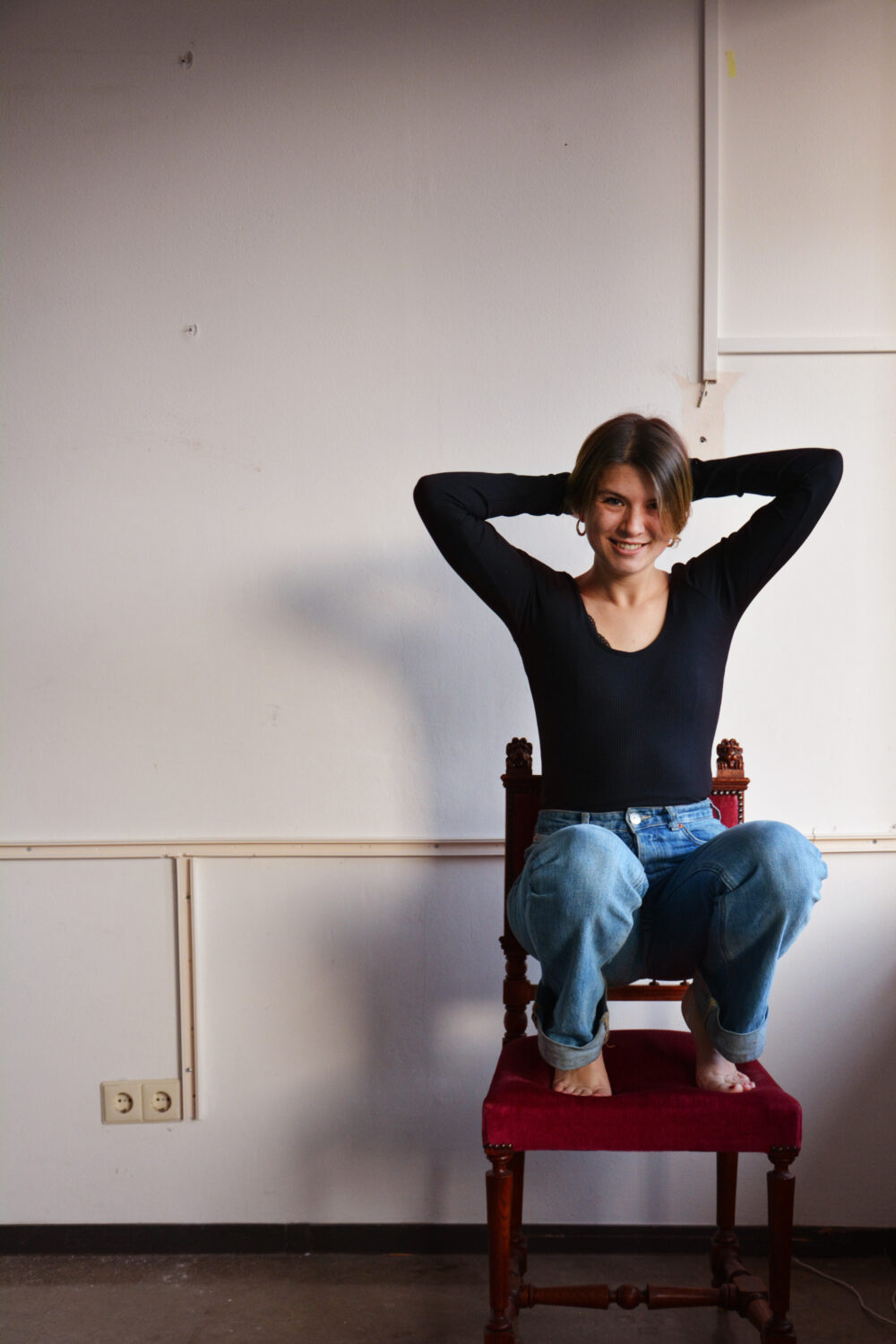 A personal quest for meeting new creatives, an answer to the loneliness sometimes experienced by artists, an attempt for engaging the community, The Creative Handshake is a bold and beautiful initiative of all around video director and Next Talent Rosie Zopfi. On January 27th it premieres at NatLab, during an event organized together with BROET. We wanted to learn more about what led Rosie to create this film, as well as her experience as part of the Next trajectory.
The idea for the film first came to Rosie back in the days when she was working at Plan B, a shared workspace dedicated to artists and creatives based in Eindhoven and surroundings. "Before joining Next program, I was working as a freelancer. I would often feel alone, in the sense of not knowing where and how to meet other creatives like me." Rosie explains. "Plan B was this space where a lot of extremely creative people where working, myself included, but everyone sort of had their own 'island'. So I started wondering how we could connect these people. That was the first idea and then I left it for about a year. Because the Next Talent program came and I was focusing on developing another project, the documentary Druk op de ketel, following the Dutch Michelin chef Jermain de Rozario.
But also within Next I ran into another group of creative people. And that inspired me to pick up The Creative Handshake again. I realized there really is this need for young creatives in this region to meet each other. Everyone is quite alone. Moreover, there is also quite a lot of talent here worthy of a stage. We're quite humble in the South of the Netherlands but I think we're just as good as talents in other places. Just a little less visible than creatives in Amsterdam, for example.
So I wanted to show all the talents that were here but hoped that we could connect talents as well. Ideally one would watch the film and then become curious about the featured artists, maybe google them, check their websites, maybe meet up… But also, we hoped our film will be just a first step in a series of more. We're also planning on asking the artists we featured about other creatives that they like and they think should be in The Creative Handshake. And see if we can take things further and maybe make a second series and showcase all these connections. And that's also why the premiere is very important. Because all the people who are in the film will be there, as well as the people interested in the artists featured in the film, but maybe also other creatives that might want to get involved in the project in the future will be joining us. So yes, it's really about creating connections and showing all these talents in Eindhoven. The Creative Handshake is in many ways an answer to a search for a community and like-minded people. In many ways the film happened thanks to Next and to my seeing how things can be when such a community is presented to you."
Participating in the program helped the development of The Creative Handshake in other ways as well. While attending a workshop about applying for funding provided by the program, Rosie realized there were more opportunities than she was aware of. The information in the workshop prompted her to also try and get The Creative Handshake produced, which she successfully managed to achieve even before the end of her trajectory. When talking about what else she gained from Next, Rosie explains "It's so much more valuable than just the workshops. It's also the people. For your network it's incredibly important. I don't think I've ever met so many people in such a short time. As a freelancer, the program also helps with developing a rhythm. Every couple of weeks there is a meeting or a workshop you have to prepare for…It gives a structure. And of course, through the program I also got coaching from film director Willemiek Kluijfhout. I was a big fan of her 2015 film about Sergio Herman, also a Michelin star chef. When it came to choosing a coach, I asked Maureen [n.ed. Maureen Prins is one of the Next program coordinators] if we could get Willemiek for me.
Through the program, she accepted and I got four sessions with her. She offered me extremely valuable insights while also introducing me to important producers. She also showed me how her scripts were written and we also talked about what it means to be a filmmaker. It helped me get a bit more grounded because she has so much more experience than me and has been doing this for a longer period of time." And there seem to be even more wonderful things emerging from this experience for Rosie, because she is also getting some help from Willemiek for the development of her next documentary project which will focus on female athletes. And for the first time in her career she managed to get development funding for the writing and research of her upcoming project. The sky seems to be the limit for this very dedicated and ambitious filmmaker and we couldn't be more proud of all the things she managed to achieve through the program as well as those she will undoubtedly accomplish in the future. Keep an eye on Rosie Zopfi because what's up next seems to be a joy ride!