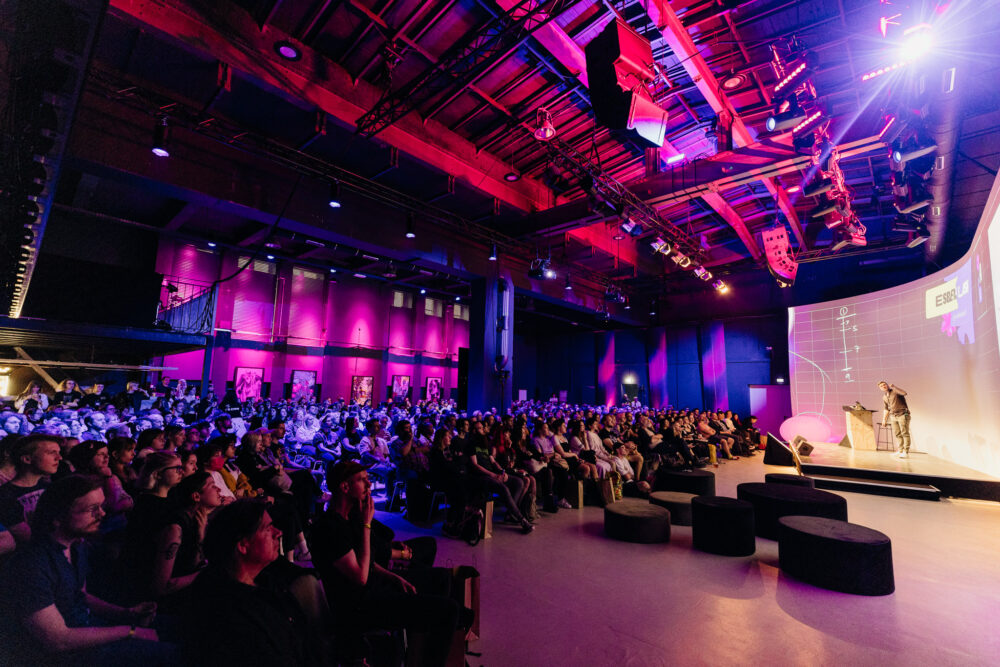 Day one at TAD Berlin brought us a super inspiring program, wonderful guests and the most perfect audience. Anything we could have wished for and more!
It also marked our collaboration debut with the Alte Münze location as well as our first attempt at an informal TAD evening program discussing Anything But Work. Read more and discover some of our highlights!
Flashback to early in the morning when we were sitting in the art market / bookstore lounge, listening to the countdown music and observing the last arrangements set in place: daunting questions filled our minds. How will our audience receive the new location? Will we manage to make it our own? Will we Playgroundize it? What will our regular guests and audience feel about what will be scaled down edition compared with Eindhoven?
As the day unfolded and artist followed each other on stage, rooms kept being filled and everywhere you were turning your head you could see people sketching, it became quite clear that many of our worries were unfounded. Because everyone was simply having a blast.
"You learn more from students than what you are teaching them," was one of the ideas highlighted by illustrator Djamila Knopf in TAD Berlin's first talk of the day. And this dual exchange was beautiful showcased all throughout the day as we couldn't but stop and admire all the beautiful sketches members from our audience were creating.
Other insights stayed with us as well. "Close-ups are very good. When you see people on screen up close thinking and deciding, that is when we connect with the characters and the story," told us the ever inspiring and super kind John Nevarez.
"You have got to work with the people you like," simple but powerful advice from Curt Enderle. "If you always have stories to tell, then it's worth becoming an artist. You should also be in charge of the memories you make for yourself," prompted us Bastien Lecouffe Deharme. Lots of tips and easy to apply tricks were also shared in the Convoloot panel about striving for fair pay.
It went on and on  all the way into the evening, when we switched things up and decided to focus on anything but work.  We learned all about nails art, courtesy of Venla Linna, the influences of Zeen Chin and Johnson Ting but also the incredible photography skills of Crash McCreery. A full inspiring day deserved an epic ending so dancing the night away we did!
We don't know yet what day two will bring, but we already know we'll savor and enjoy every single second of it!