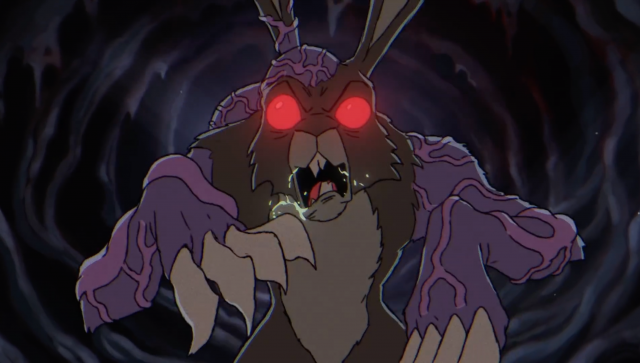 A gem featured in and talked about also during The Art Department | World Tour bringing back the former glory of music videos. Created for The Strokes who, in turn, have not released an album in 7 years, the video proposes a spectacular sci-fi adventure. Filled with everything from dark forces, unexpected heroes, plot twists and fulfilling endings, the promo brings back beautiful memories of retro animation. Our series' editor Maria Dicieanu pins some of the elements that make At the Door a special viewing experience.
Maria: "One of the things I really love about animation in general is the way it creates a space for transformations and transitions that could not exist or would be non-sensical in real life. A rabbit jumping in a hole, that turns into a black hole in the universe, that turns into a child's eye is something we would have difficulty visually understanding and processing if it weren't animated. Yet, through animation we not only accept it but we are also ok with it happening in flashes of seconds and with processing the information depicted in the images very quickly.⁠ It is these exquisite transformations that really caught my eye when watching the music video for The Strokes. Topped up by the enticing universe inspired by 80s animation like Watership Down and Heavy Metal, as well as the very exciting narrative, the promo makes a wonderful viewing experience, very similar to a short film.
The was directed by Mike Burakoff and produced by Benjy Brooke. The animation process was also quite interesting as it gather a series of remarkable talents, each responsible for their own section and yet managing to accomplish a unitary vibe. Adam Henderson led the design of the Rabbits section; Adam Sillard on the Celestial Procession, Pablo Gostanian and his Buenos Aires-based studio 2Veinte took on the "gargantuan task" of leading the Megastructure sequence, based on exploratory designs by Pete Sharp; Ugo Bienvenu and his Paris-based studio Remembers Productions led the Cosmonaut 1982 section; and Benjy Brooke led the Boy section.
Talking about the concept for this music video in an interview for It's Nice That, the director says: "The references to Heavy Metal, Watership Down and The Neverending Story are fairly obvious but in the process of making this video, Benjy turned me on to some other animated masterpieces of the era: Angel's Egg, Time Masters, Gandahar, the Neo Tokyo anthology, the Memories anthology, Fantastic Planet. It's no mistake that this video reminds people of so many classic animated movies. We wanted to recreate scenes and characters that could have actually appeared in those films. But they aren't quite the same, they seem a little off and that gives you this feeling of nostalgic unease… Is this memory real?"
Music videos are still very much alive and kicking as a genre where cutting edge creativity happens. And this is exactly why with this series, curated by Maria Dicieanu, we're focusing on the absolute must sees artistic gems of music video origins. Whether linear, VR or interactive, The Marvids (short for Maria's Marvelous Videos) aim to show-case why promos are still holders of unique aesthetic with their own particular beauty and artistry.