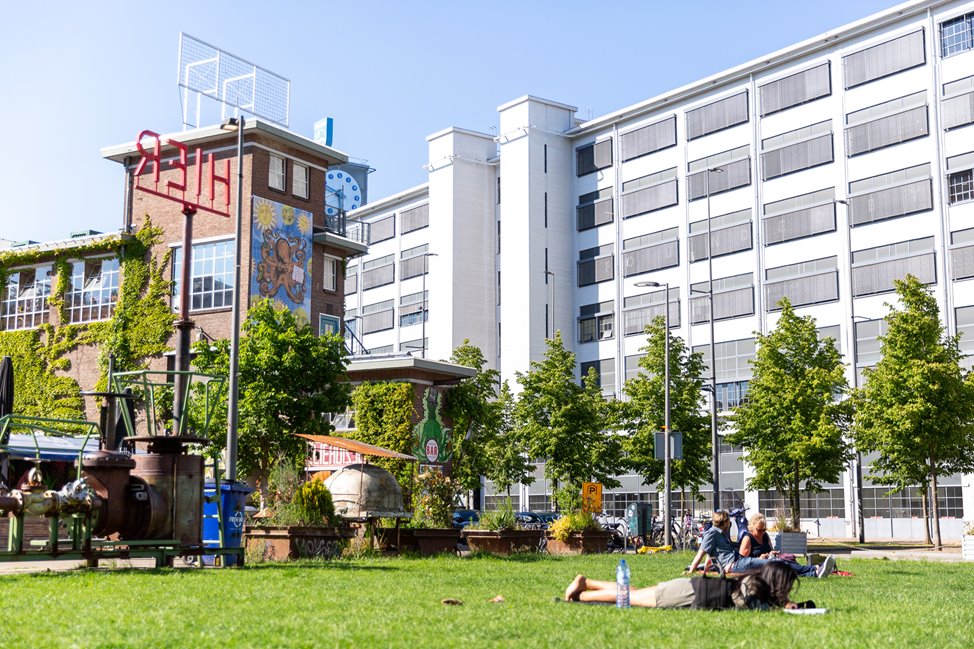 Eindhoven Strijp-S, a formal industrial area that turned into a lively blend of culture, art and food. The Art Department festival is hosted at The Klokgebouw, one of the iconic buildings on Strijp-S. If you're here for The Art Department you should definitely take the opportunity to explore the characteristic hotspots around Strijp.
One of the key features of Strijp is the festival hang-out of The Art Department. It's the building right in front of us named Het Ketelhuis. This location serves the best lunches and has a great terrace with an easy and low-key ambiance. Crew and artist will be there every night to have a drink with you. Het Ketelhuis is the perfect place to take a break, grab a bite and (if the Dutch weather allows it) enjoy the sun. 
If you want to expand your art experience, you should take a look at the The MU Hybrid Art House which is located in the former Philips factory. The MU presents new work of designers who play with the definition, boundaries and space of art itself. There is a lot of intersection between the disciplines in the program of the MU. When you're here for TAD you will be just in time to check out their latest exhibition: 'Spiraling Into Infinity' from Children of the Light. You will get free entrance with you TAD festival ticket. 
Another design concept to check out is the shop and exhibition place Yksi. Yksi is a platform that brings different kind of industries like architecture, design and technology together to focus on sustainablility. At the moment it houses the exhibition 'Contemplative Bath' of designer Giorgo Gasco. Looking for some fashion inspiration? Then you should give second hand store Vintage Vêtements a go. The store is a place where sustainability and fashion cross worlds, their collection is filled with unique hand picked items.
Besides all of these mentioned hotspots there is a lot more to enjoy at Strijp. Extra hotspots and good food can be found here. So take your chance to discover the richness of the area during your The Art Department visit and get the full Strijp-S experience!