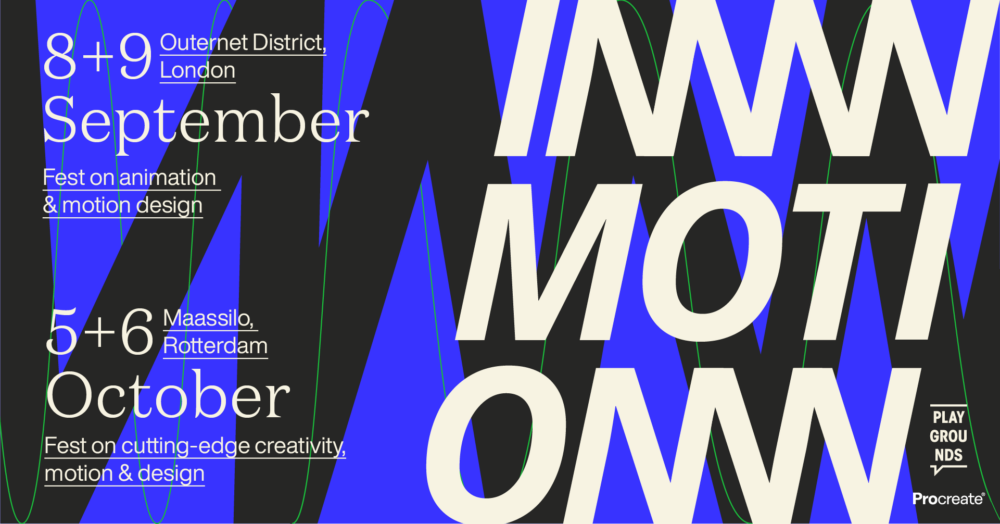 In an ever-changing media landscape, constantly moving and dynamic, Playgrounds is also always In Motion. Even more so when chasing the newest creative trends, mind-boggling artists, ambitious innovative projects and unearthed inspiration emerged from digital arts in all shapes and forms.
We wanted to explore more, discover more, enjoy new spaces and connect with new audiences. So meet: Playgrounds In Motion. A travelling festival, focusing on different themes in every new location. First two stops: London + Rotterdam!
PLAYGROUNDS IN MOTION: LONDON
8+9 SEPT | FEST ON ANIMATION & MOTION DESIGN
In the heart of European animation and media production we'll bring the Playgrounds magic. Playgrounds in Motion London will focus on animation & motion design and will showcase the latest developments in this genre and of course industry legends in this field.
Partner in yet another wild adventure and our principal sponsor is  Procreate
And just to set things in motion also in terms of line-up announcements, we can now confirm we will be joined by an absolute audience favorite who recently dazzled us with his fabulous work on Spider-Man: Across the Spider-Verse. Yes, production designer and concept artist Patrick O'Keefe will be on our London stage!
Make sure you keep an eye on our website and socials because we'll be dropping program announcements all through the summer!
Time is of the essence so get your tickets here!
PLAYGROUNDS IN MOTION: ROTTERDAM
5+6 OCT | FEST ON CUTTING EDGE-CREATIVITY, MOTION & DESIGN
In Rotterdam we will set up camp in the industrial vibe exuding Maassilo centre for a catwalk of all liquid, trending and new visual culture.
For our friends and visitors wondering about our former Playgrounds BLEND festival: we felt it needed a new name angle, so we welcomed In Motion instead. But not to worry, expect In Motion Rotterdam to ooze post-digital storytelling, cutting-edge creativity, fluid media, cross-genre projects, innovative works and artists, just as you are used to!
Tickets are available here.