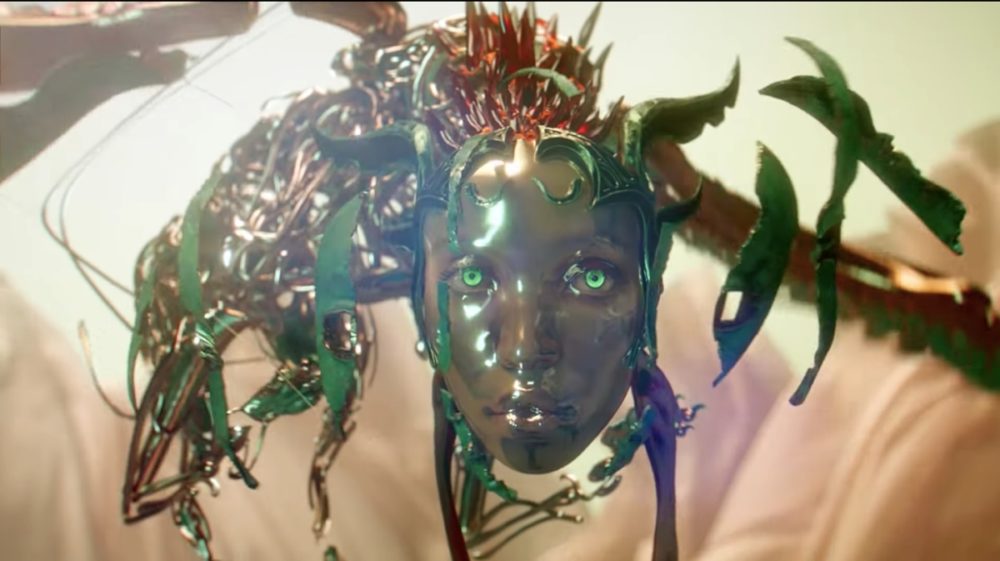 The works of Andrew Thomas Huang are never short of spectacular which is exactly why we enjoyed so much having him on the Playgrounds stage back in 2014. However, for his latest music video and Marvid pick "Cellophane", he also showcases an unnerving vulnerability which cannot but mesmerize the audience.
Without a doubt a significant role in the promo's vibe and feel was played by the singer's personal story. Her health and relationship struggles experienced at the height of her career are gorgeously portrayed through the pole ascension and respective fall. FKA Twigs chose to do the pole dance herself, an effort she had to prepare for six months in advance. Opting to visually push her body forward for a series of eclectic movements, the same body that had in some ways let her down in the past, is an beautiful narrative on all levels. Yet Andrew Thomas Huang managed to elevate it further.
The opening is less of a visual statement compared to some of his other works like the promos for Bjork, Atoms for Peace or Perfume Genius. In a lot of ways it matches the track's restrain and composition simplicity. But there's a special mood, an undefined touch that does keep you watching. The tension and expectations build up. What follows, is an explosion affecting all senses. The music is equally hypnotic. And even though it doesn't grow and expand in the same way as the visual part does, it continues to accumulate tension as well.
The mirroring of audio with visual flows followed by their rhythmical dichotomy, the dosage, the viewer's gradual immersion, all these elements are managed with a stroke of genius by Andrew Thomas Huang. And despite making it all look like a breeze, there's a lot of preparation poured into the process. In a The Fader interview covering behind the scenes aspects, he said: "You have to allocate where and when you want to dump your resources. Do you want to dump it all at the end, so that you really craft it afterwards? Or do you want to put in all that work before and then, so that when you get there you can be spontaneous? The work has to be planned either way. The "Cellophane" video was a rare instance in which both applied, because it's so performance-heavy." "I did a hand-drawn storyboard and CG pre-visualization and showed it to FKA twigs. While she was rehearsing, we'd look at it and be like, "Oh, maybe that moment could connect here," and then I'd go back and revise it. It was a back-and-forth conversation. Once she knew the routines by heart, she could give an emotional performance and we could also do some spontaneous stuff. There are also discoveries that happen when you shoot. She does this crazy contortionist pose on the pole where the camera turns upside down. I didn't know we would do that until I saw the mirrored floor in person, and I was like, "Holy fuck. That's such a beautiful floor. How cool would it be if we see this creature through the reflection?" All the planning helps us discover those things."
Music videos are still very much alive and kicking as a genre where cutting edge creativity happens. And this is exactly why we're launching a brand new series, curated by Maria Dicieanu, focusing on the absolute must sees artistic gems of music video origins. Whether linear, VR or interactive, The Marvids (short for Maria's Marvelous Videos) aim to show-case why promos are still holders of unique aesthetic with their own particular beauty and artistry