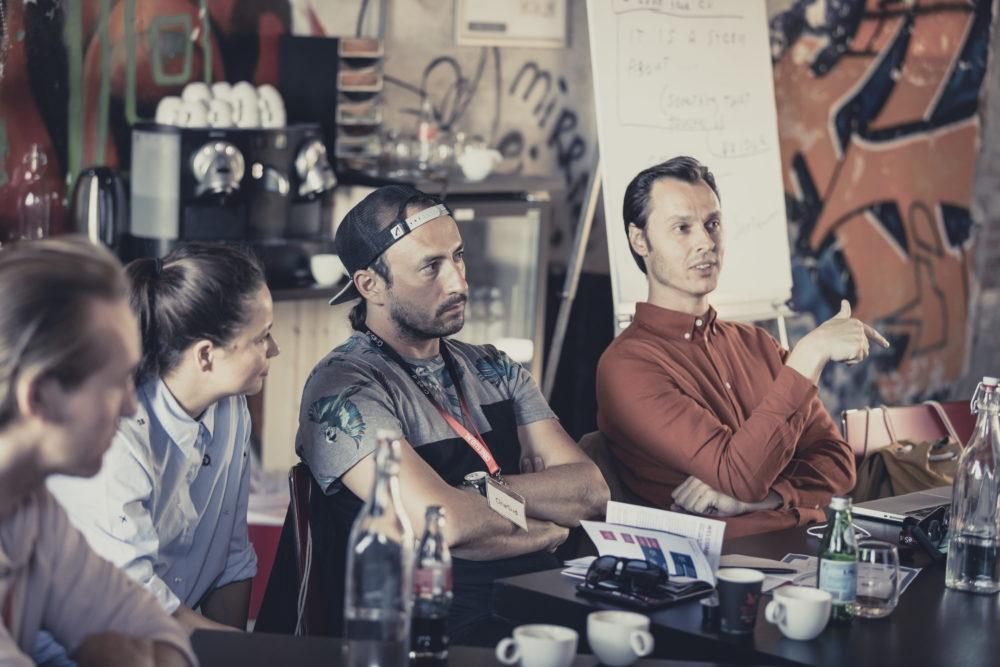 Dutch only / Dutch spoken course / image by CineSud
Naast een Writers Room Documentary bieden we samen met CineSud ook een Writers Room Fiction aan. Maximaal zes deelnemers krijgen de kans om in een intensieve groepscoaching onder leiding van producent Ibo Karatay  hun script en/of projectplan inhoudelijk naar een hoger niveau te tillen. Samen worden knelpunten en uitdagingen besproken en gezocht naar oplossingen.
Door dit in groepsverband te doen, leren de deelnemers van elkaar en elkaars uitdagingen en leren ze ook analytisch en doelgericht te werk te gaan. Deze Writers Room is er voor film- en AV-makers die fictie maken.
De deelnemende makers komen gedurende 3 maanden 3 maal samen en bespreken samen en met de coach de voortgang. Na dit traject zijn de projectplannen verder doorontwikkeld wat de kansen voor stappen richting productie vergroot.
De Writers Room Fiction vindt plaats op zondag 23 augustus in Eindhoven bij BROET (10.00-17.00)
Online (indien mogelijk offline) op zaterdag 19 september in Heerlen bij CineSud (10.00-13.30)
En vrijdag 9 oktober tijdens Playgrounds The Art Department bij BROET Eindhoven (10.00-17.00).
Kosten bedragen €125 (incl. BTW en inclusief lunch op de eerste en derde bijeenkomst) voor het gehele traject.
Deze Writers Room gaan alleen door bij een minimum van 4 deelnemers (maximaal 6 deelnemers).
Aanmelden | deadline: 23 juli 2020 – inschrijving gesloten – vol
Je hoort binnen twee weken na je aanmelding of je geselecteerd bent. Vol = vol!
Hou er alsjeblieft rekening mee dat er maar één maker per project aan de coaching kan deelnemen en dat de projectplannen gedeeld worden met de overige deelnemers om zo de inhoudelijke discussie en analytische vaardigheden optimaal te stimuleren. Het is mogelijk om je mede-scenarist of bijv. regisseur mee te nemen naar de sessies, in dat geval geldt een toeslag van €60 op de vermelde prijs. Mocht je deze wens hebben, mail dan naar maureen@weareplaygrounds.nl voor de mogelijkheden.
Wil je je aanmelden voor de Writers Room Fiction? Vul dan onderstaand formulier in en upload je idee waarmee je aan de slag wil. Aanmelden kan tot en met 23 juli 2020. Je hoort binnen twee weken na je aanmelding of je geselecteerd bent. Vol = vol! Na selectie volgt een factuur. Je aanmelding is pas compleet als je ook je factuur hebt betaald!