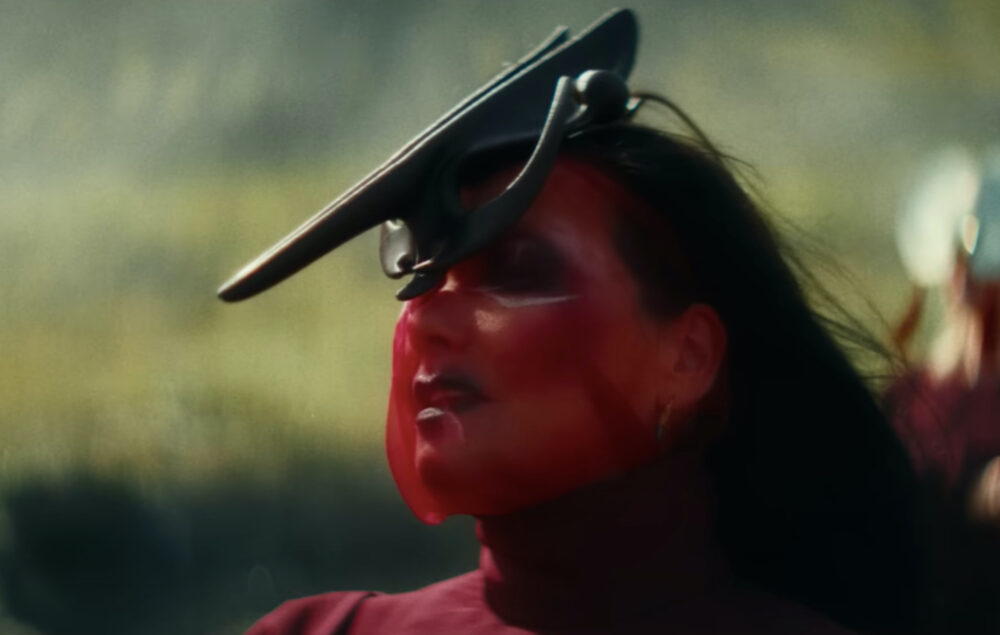 With their latest collaboration for Ancestress, Andrew Thomas Huang and Björk engage on an unusual journey on a somewhat surprising route. Then again, when was the last time they did not surprise their audiences? Our music videos aficionado Maria Dicieanu takes a look at their latest music video together, a MarVid promo in all respects…


Maria: "Whenever Björk and Andrew Thomas Huang meet, magic happens. A musician – director collaboration like no other, it springs music videos pushing innovation and creativity to realms difficult to fantom by us, mortals. Two great minds that not just think alike but think in ways that push one another to more and more extraordinary things. At least this is what we have accustomed with, thanks to their previous five video projects together.
In many ways, Ancestress seems like a more toned down version of their regular works. Relying heavily on movements, expressions, costumes, art-direction, emphasizing more on creating an organic feeling and less on eye-dazzling visual effects, the promo also celebrates natural settings and a return to origins.
The song itself is a tribute to Björk's late mother. In an Instagram post she describes her aversion for funerals. "For 20 years I have not been able to attend funerals as something about them rubbed me the wrong way." In an interview with Pitchfork, she elaborated, "I would help organize the musicians and the set list, but I couldn't go inside the church [for family members' funerals]. I would just get so mad. I'm an atheist, so it was like, 'Wait a minute. There's a priest here who has never met the person who passed away?' It's like having an MC rapping raps that he didn't write."
According to Björk Ancestress is what she would have said at the funeral if she were a priest.
And of course, this had to reflect in the music video as well. A personal journey through grief but also a celebration of life. An acknowledgement to the rituals of passing stripped down from any religious connotations. A visual interpretation of a song but in the same time the portrayal of an experience rooted so deep within. A music video that is in so many ways so much more than a music video, required the vision of somebody capable of understanding and respecting Björk both as an artist but also as a human. No better person than Andrew Thomas Huang for this job, as the musician herself points out in a Facebook post:
"My dearest Andy !!
Thank you for doing ancestress with me !!!
This is such a sensitive subject matter , I cannot even begin to express how grateful and honoured I was when you said you were up for it. Your talent is so immense, not only as the expressive cinematic poet that you are but also your naturalness with any craft or technology there is, from film to AI , string-puppets to VR ,
We have done all of it together !!!
Mutual Core , Stonemilker , Black Lake , Family , The Gate and now Ancestress. It is an incredible journey I am so proud of!
You have become the documentarian of the most profound moments in my life and I don´t think it is a coincidence.
It is because of the immense capacity of your talent both emotionally and technically, it is because only you can take it on!!
Thank you from the bottom of my heart
Warmthness
björk"
Make sure to watch the making of as well!
Music videos are still very much alive and kicking as a genre where cutting edge creativity happens. And this is exactly why with this series, curated by Maria Dicieanu, we're focusing on the absolute must sees artistic gems of music video origins.
Whether linear, VR or interactive, The Marvids (short for Maria's Marvelous Videos) aim to show-case why promos are still holders of unique aesthetic with their own particular beauty and artistry.