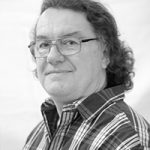 The Care Bears Movie, The Land Before Time, All Dogs Go to Heaven... Some of Ralph Palmer's most notable and loved projects he completed before a lot of people currently shaping the industry were even born. He might have started with an old school approach: doodling on the edges of school books, but he somehow ensured his works remained timeless, beautiful and inspiring for generations to come. He joined us on stage for our very first The Art Department event in 2017 and we were delighted to have him back with us for 2020's hybrid fest.
Originally from Toronto, Canada, Ralph Palmer worked for several years at the animation studio Nelvana. The studio had just started experiencing incredible growth and was even venturing at developing animated features. It proved a great opportunity for Palmer, helping him land his next job, at the Disney Studios in California.
Once again, Ralph Palmer was lucky to experience a great time within the industry, one he refers to as "the Renaissance of animation". At Disney he was especially loved for the facial animation and the emotional performance of his characters.
He would work on iconic characters such as: Milo Thatch (Atlantis), Pocahontas (Pocahontas), Quasimodo (Hunchback of the Notre Dame) and Tarzan (Tarzan).
Ralph Palmer has also worked as a lecturer at the International Game Architecture and Design study course of the NHTV Academy for Digital Entertainment. His more recent project include collaborating with Falconbridge – an advanced visual arts production company based in Breda, The Netherlands. Their agnostic view of software keeps them on the frontier of art and technology.