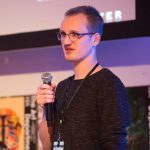 Bo Zonneveld is a Dutch concept artist living in Berlin. He has been a speaker at Playgrounds several times and he tipped cool projects as an eye candy editor for our online platform. We're thrilled that he will be supporting our first online edition of The Art Department by reviewing portfolios!
Zonneveld started working as a concept artist on the independent game THE FLOCK, for which he received a Dutch Game Award in 2013 and was launched in 2015.
Now this young artist is on full steam. Bo Zonneveld has worked for Atomhawk as an illustrator and he is currently working as a freelancer for various clients on AAA projects. Think clients like Nintendo, Dice, Bose, Warner Bros, Intel and Trixter.