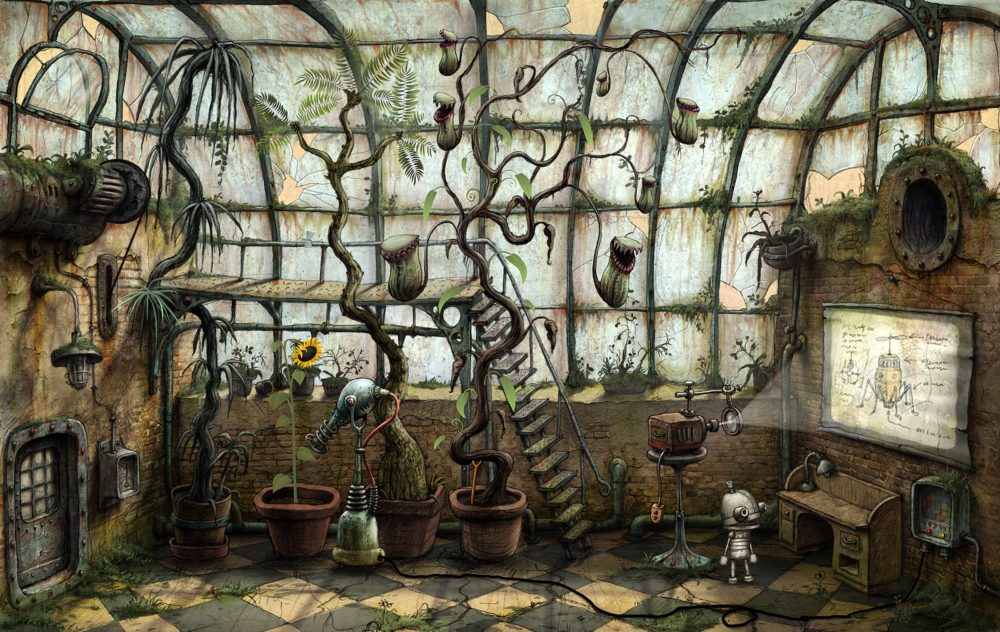 Amanita Design is a Czech indie game developer. The studio was founded in 2003 by designer, artist and animator Jakub Dvorsky, and is known for its emphasis on surreal worlds, light-hearted humour, hand-crafted appeal and audiovisual experience.
The company has created award-winning games including Machinarium, the Samorost series and Botanicula, as well as educational and advertising minigames and animations, all using Adobe Flash. Clients include BBC, Nike and The Polyphonic Spree. They have reached a cult status with their game Machinarium: their first full-length adventure game in which players take on the role of a robot who has been exiled to the scrap heap. It received a score of 84% on GameRankings, and 85/100 on Metacritic. The game won the Excellence in Visual Art award at the twelfth Independent Games Festival in 2009 amongst other awards.
Their newest game is Creaks: Creaks takes you on a visit to a mysterious towering mansion, inhabited by eccentric avian folk and strange creatures, which may or may not be as dangerous as they seem.
In their animated form, these monsters called creaks are deadly enemies you should always keep your distance from. However, as soon as you manage to trap them under a beam of light, they transform into harmless furniture that might be just as useful when you're solving many of the game's elaborate puzzles.
For the first time, Amanita Design departs from their usual style of point-and-click gameplay and uses a more streamlined control scheme. Players will guide the hero directly using a directional pad or a thumbstick to descend deeper down the eerie house and interact with its many levers, pressure plates, bridges, and light switches.