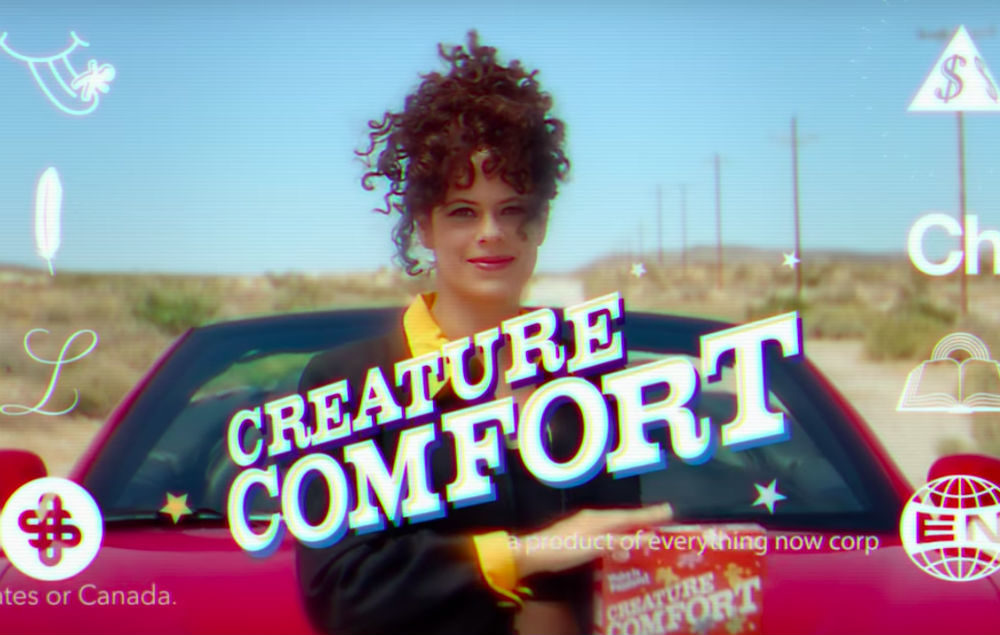 Still on a roll celebrating David Wilson's addition to the Blend 2019 line-up, Maria felt it was only fitting to have a Marvid entry dedicated to one of his fabulous (and more recent) works.

After a very successful collaboration for We Exist culminating with a Grammy nomination, David Wilson and Arcade Fire joined once again forces. They created an epic video of not just one, but actually two tracks from the album "Everything Now". The 15 minutes long promo consists of two parts and features Oscar nominated Toni Collette as a villain label executive.
The first installment covering the "Put Your Money on Me" track, has the mood, development and aesthetics of a satirical Black Mirror-esque short-film. The story is centred around the band's being forced into an extremely disadvantageous deal. They are required to promote various products, including the Creature Comfort cereals, as well as performing in different places. After a show in a casino, they stumble into a coffin filled with money, but unfortunately get caught in the process of stealing them. Although initially escaping the police raid which landed his companions in jail, frontman Win Butler rejoins the band for a "behind-bars" performance of the track "We Don't Deserve Love".
When talking about making the video, Butler says: "The concept of a double video really appealed to us, we'd always loved songs being put together as A and B sides… and these songs seemed perfect together. David has been a great collaborator for us since 'Reflektor' and we were finally able to work with Toni whom we'd been wanting to work with for some time".
It is exactly this juxtaposition of what could have been two distinct music videos, that makes the promo such an interesting experience. Blended together, they create new narratives. The fact that the band seems to be less restrained when actually locked away, makes viewers reflect on what really is artistic freedom. It can also be read as a plea for artists to be able to focus on what they are good at, instead of engaging in promoting and selling various products they might not even identify with.
Music videos are still very much alive and kicking as a genre where cutting edge creativity happens. And this is exactly why we're launching a brand new series, curated by Maria Dicieanu, focusing on the absolute must sees artistic gems of music video origins. Whether linear, VR or interactive, The Marvids (short for Maria's Marvelous Videos) aim to show-case why promos are still holders of unique aesthetic with their own particular beauty and artistry