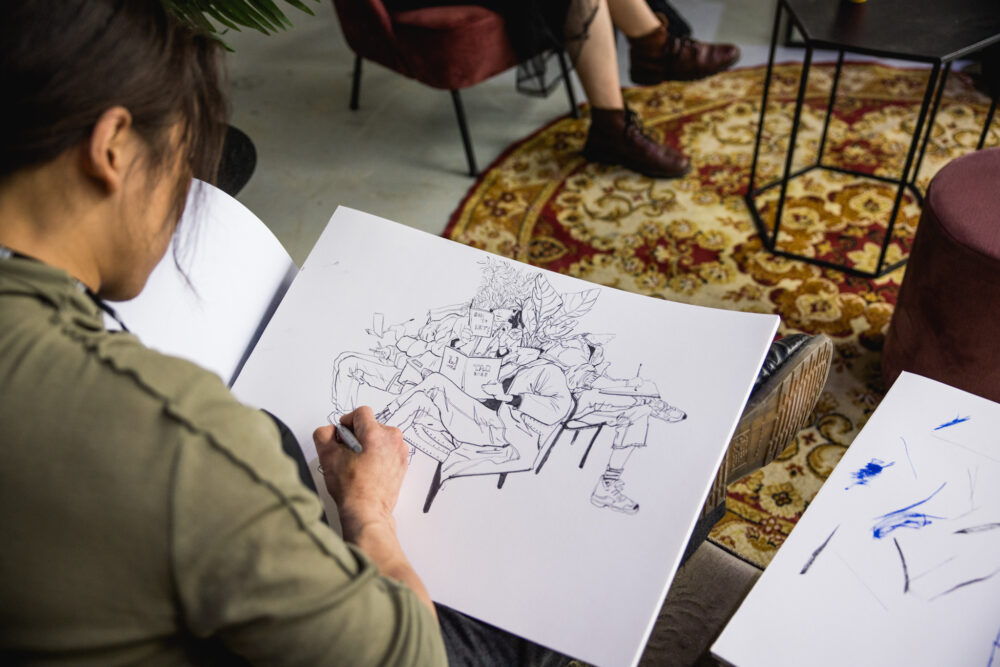 During The Art Department Berlin we're setting up a wonderful space bound to get your creative juice flowing.
Do you prefer to watch and learn? Always wanted to see your favorite artist work their craft or ask them questions about their creative process? Then make sure to watch the extensive demos we've arranged with Bayar Tsedensodnom and Diego Gisbert Llorens.
Are you more of a learning by doing type? Want to up your game and practice on drawing hands or stylizing and overexaggerating face features? Then join the Drink and Draw Berlin mini workshops!
Multiple ways to improve your process! And best thing is, you can also mix them up!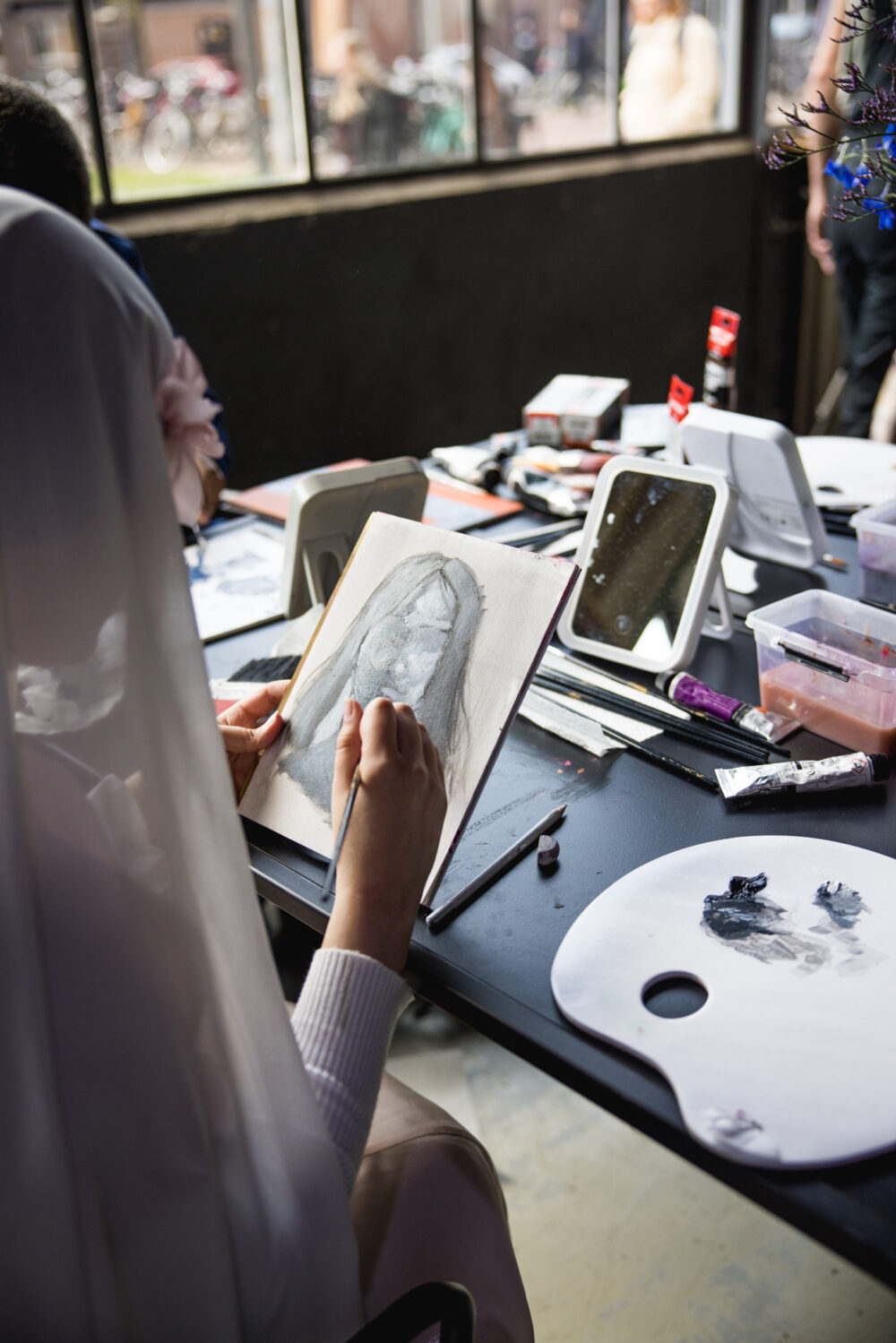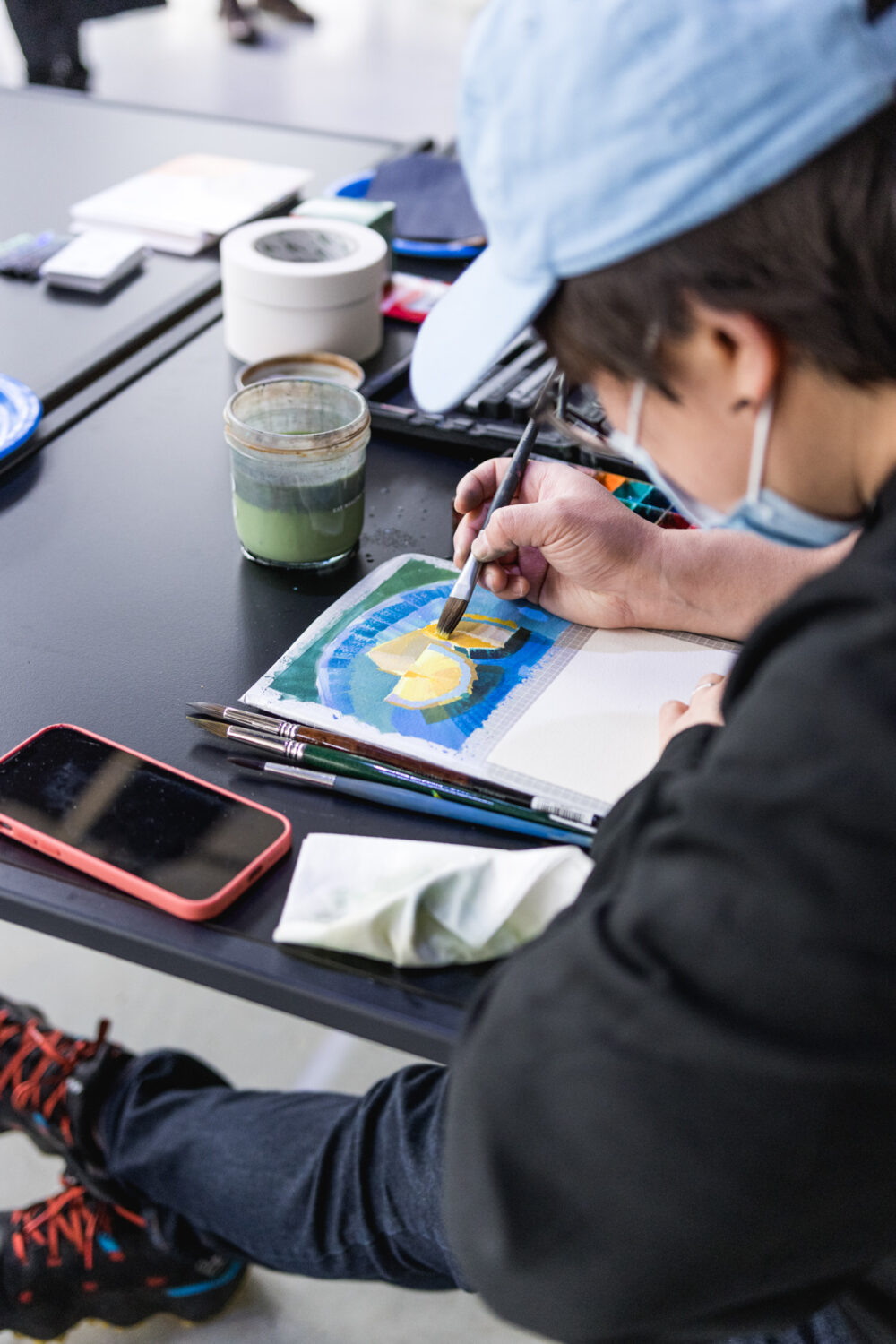 On Saturday, May 13, you'll get to observe the ink sketching process of Bayar Tsedensodnom. He is fine artist and illustrator and Drink and Draw member of the first hour. Besides creating beautiful illustrations focusing mainly on characters, portraits and the depiction of asian cultural heritage, he is also proficient in building and putting together art installations and decor from scratch. As an experienced teacher he has been running the weekly drink and draw life drawing courses for years and also enjoys sketching as an entertainer on events. His projects and clients include Feel Festival, Artlake Festival, 'the Haus Berlin Art Bang', GCH Hotels and Stadt ohne Meer Festival.
And as far as the Drink and Draw mini workshops are concerned, you'll be practising your bubble heads skills! Unfamiliar with them? Bubble heads is what we call portraying each other with stylizing and over exaggerating face shapes. The Drink and Draw team will be there to assist you with tips and materials.
On Sunday, May 14, you can dive into oil painting side by side with Diego Gisbert Llorens. Madrid born but Berlin based, he is a illustrator, concept artist and fine artist with a traditional art background, working in the entertainment industry since 2007, both in-house and freelance.
The mini workshop provided by Drink and Draw is all about drawing hands. A topic problematic for a lot of people, you'll get to practice this skill all through the morning, observing various hands and receiving personalised tips from the wonderful artists from Drink and Draw Berlin.
The workshops and demos are available to enjoy by any visitors with a valid TAD ticket for the day. No reservations or extra fees required.