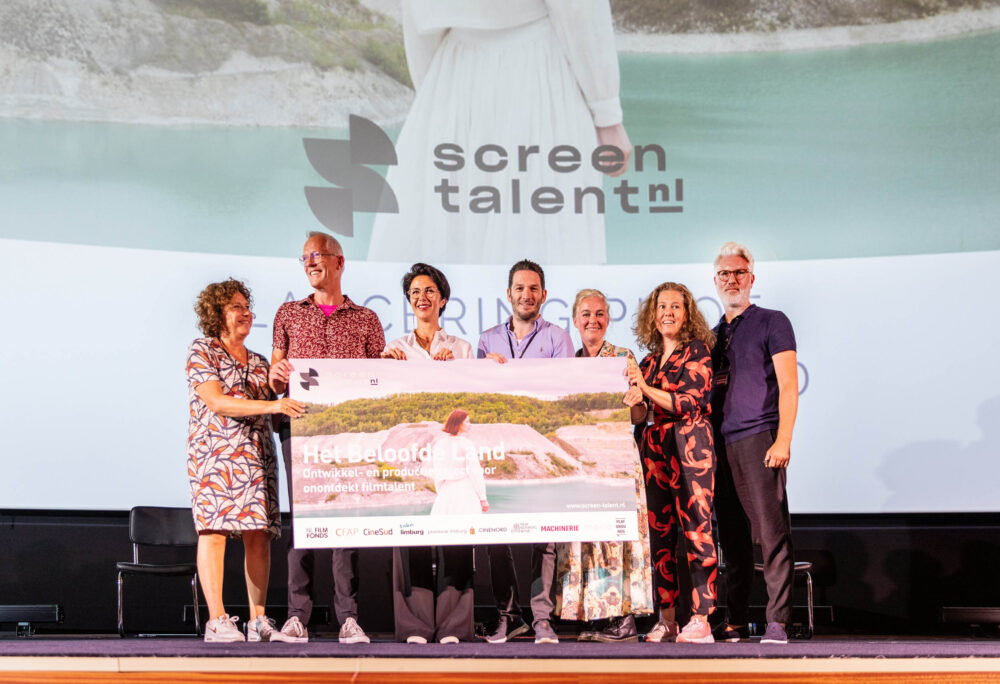 Last Friday, Screen Talent NL launched a new develop- and production plan for short and mid-length film productions from regional areas. The plan was presented in the of the Dutch Secretary of State for Culture Gunay Uslu and director of the Netherlands Film Fund Bero Beyer. Playgrounds is founding partner of Screen Talent NL. 
Filmmakers from Dutch regions as Noord-Brabant, Limburg, Friesland, Groningen and Drenthe will be asked to create short- and mid-length fiction films around the them 'the promised land'. These films should contain a sense of hope and show the cultural values per district. The Netherlands Film Fund will grant a budget of 500.000 euros for these projects. This news was announced at the first Screen Talent NL Talent Day, presented at the Royal Theatre in Heerlen. On this same day, the Secretary of State was invited to talk towith filmmakers and pioneers of Screen Talent NL.
Screen Talent NL is a network of regional talent- and production-hubs focused on Film and AV and was founded in September 2021 at the Dutch Film Festival. This network is committed to enforce and embed regional film policy and puts pressure on having structural funding from the Dutch government for talent development and production out of all Dutch regions. The pilot 'Het Beloofde Land' will initiate a development- and production plan whereby development and production of films will be combined with an extensive training course for filmmakers and regional producers.
Prior to the launch, initiators Guido Franken (CineSud, Limburg Film Office, Limburg) en Joris Hoebe (CineNord, New Noardic Wave, Friesland), Paulien Mandos and Maureen Prins (Playgrounds/Next, Noord-Brabant) spoke to the Secretary of State about a structural funding for the network that will strengthen the infrastructure for Film and AV in all of the Dutch regions.
Gunay Uslu: "We have to keep an eye on the developments within our country and stimulate collaborations between these trends. Film policy has been shaped on a national level in the past but times have changed. We also have to take a look what is happening within the provinces. Which stories are there to tell? Who are the talents? And how do we develop these talents? That is the challenge. It's beneficial for the film industry and culture to show and tell stories outside of the Dutch capital (de Randstad). Diversity is key and can only be reached when we take the whole country into account."
Guido Franken (director CineSud): "We've been looking forward for this moment for too long. ~The region ('de regio') shouldn't be seen as a different element but should be seen as an indispensable part of the total ecosystem and therefore of the national policy. No partitions but connection and synergy. Only like this, we can utilize the opportunities around quality, diversity and innovational strength within the field of Dutch film."
Dutch producers and filmmakers from the provinces of Noord-Brabant, Limburg, Friesland, Groningen and Drenthe can apply through this link for the pilot-plan 'Het Beloofde Land'. Creators from different provinces are also allowed to apply but only if the plans are rooted in one of the named districts and they're moving in the film- and AV-infrastructure over there. The films will be screened though the whole country in 2024.
Picture: Philip Driessen
from left to right: Monique Ruinen, Bero Beyer (Netherlands Film Fund), Secretary of State Gunay Uslu, Guido Franken (CineSud, Limburg), Paulien Mandos, Maureen Prins (Playgrounds/Next, Noord-Brabant), Joris Hoebe (New Noardic Wave, CineNord, Noord-NL)