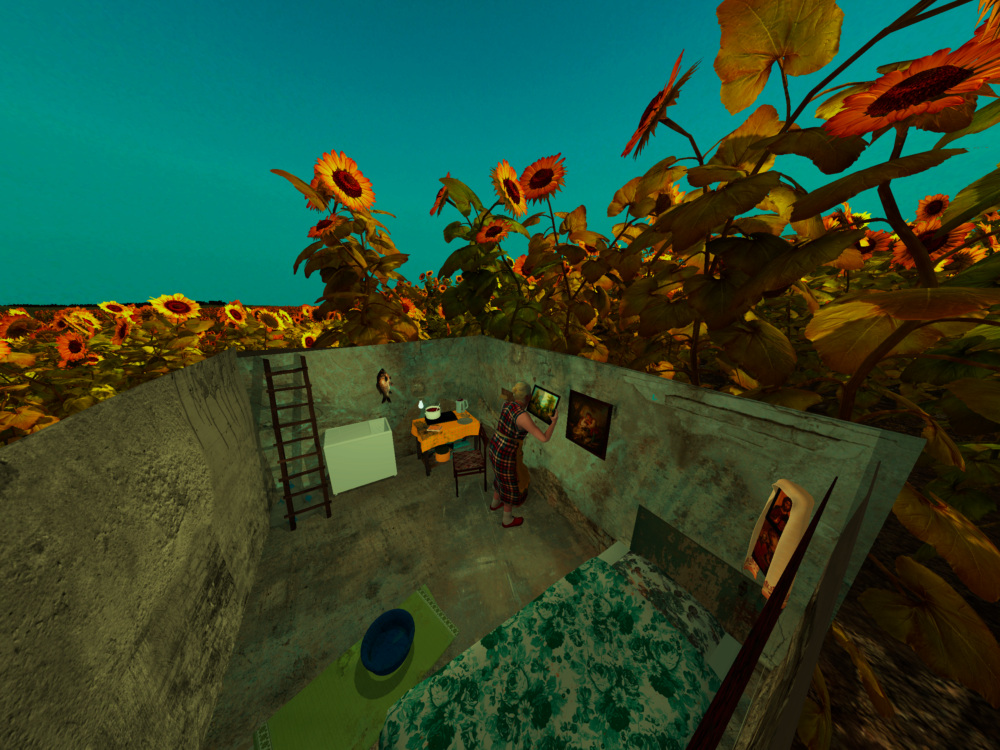 Nienke Huitenga is an award-winning independent immersive designer and strategist. In her work she blends media strategy, digital concepts and immersive experiences. She designed media strategies for transmedial stories like Human Birdwings and The Modular Body (directed by Floris Kaayk), which reached an audience of millions. In 2016 The Modular Body was awarded the first ever Gouden Kalf for best interactive work (a Dutch equivalent to the Oscars).
She also co-directed ROZSYPNE, an interactive roomscale VR-story about an old lady trying to persevere daily life in the Eastern-Ukrainian warzone, with the MH17-crash at her doorstep
n the summer of 2014, the village of Rozsypne in the eastern Ukrainian countryside found itself in the midst of a raging civil war, the lives of its inhabitants unsettled by the destruction and chaos at their doorstep. But the suffering of Rozsypne only made international news after Malaysia Airlines flight MH17 was shot down, killing all 298 passengers and raining debris, bodily remains and other traces of human life over the fields and homes of the village—whose name translates as "scattered."
While international coverage of the crash mostly centered on Western European lives, this poetic roomscale VR experience offers a fragmented window into the life of Nina, an elderly woman living in Rozsypne. Moving through the distinctive Ukrainian sunflower fields, we witness the details of Nina's austere but cozy home and experience the feeling of this faraway reality up close. A vivid and brightly colored exploration of mourning, endurance, and common human feeling.
In this online masterclass Nienke will explain more about the process of creating this experience. How do you communicate your artistic choices to your technical crew? Kill your darlings, how do you decide to skip options? How do you make sure that the immersive technique strengthens your artistic choices?
This Next Academy workshop is part of the Next talent program. In collaboration with Next partner BROET.
Practical info
Friday 29 January | 13.00-14.30 |
15 euro (ex €2 handling fee)
Picture Nienke by Robin Alysha Clemens
ROZSYPNE
Directors: Nienke Huitenga & Lisa Weeda
Story: Lisa Weeda
Technical Artist: Frank Bosma
VR Design: Corin Donders
Character modelling & animation: Hans van Arken
Motion Capture: Berry de Jong
Productie: Studio ZZZAP