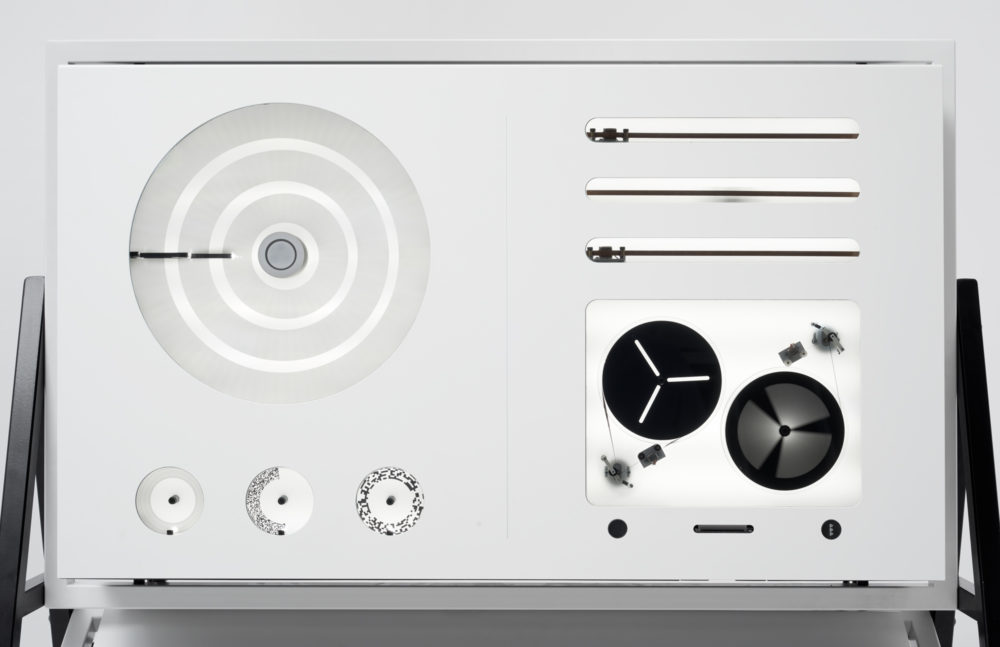 APPARATUM is inspired by the heritage of the Polish Radio Experimental Studio – one of the first studios in the world producing electroacoustic music. The installation draws musical and graphical inspiration from the "Symphony – electronic music" – composed by Bogusław Schaeffer.
Bogusław Schaeffer conceived his own visual language of symbols that conveyed the cues for the sound engineer responsible for the production of the piece. The physical form is inspired by the general aesthetics of the Studio's famous "Black Room" designed by Oskar Hansen. The electroacoustic generators and filters were arranged in a modular fashion inside steel frames.
Magnetic tape was the primary medium used in the Polish Radio Experimental Studio. APPARATUM uses two types of "tape samplers" – two 2-track loops and three one-shot linear tape samplers. To obtain noise and basic tones it utilizes purely analog optical generators based on spinning discs with graphical patterns.
Of course Eindhoven is no stranger to experimentation in electronic music – famous Dutch composer Dick Raaijmakers is seen as one of the earliest pioneers of electronic music, experimenting in the Philips Natlab back in the 1950's. His song 'Song of the Second Moon (1957)', recorded under his moniker Kid Baltan, is regarded as one of the progenitors of modern techno music. APPARATUM echoes much of the aesthetic and uses much of the same techniques that were used in the Eindhoven Natlab.
Visitors are welcome to experience the installation and play with the mixer to create their own scores which can be uploaded and printed afterwards.
On Monday 22 October panGenerator will give an artist talk about their work in Playgrounds Session #8 in TAC Eindhoven. Free entrance, but please reserve your seat!