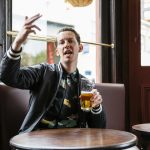 Super excited to collaborate with Graphic Matters as co-curator and to announce Mr Bingo as one of our guests. Vroom Magazine: "a person who has redefined the traditional job description of an illustrator.". Mr Bingo will give an artist talk at Playgrounds Blend.
Mr Bingo was born in 1998 after a cheerful bingo night in Maidstone. It first served as a nickname among students of the Kent Institute of Art & Design, before being fully embraced as a signature and identity for its Leigh-born bearer. Mr Bingo went on to study graphic design at Bath Spa University College and specialized in illustration, graduating in 2001 and moving to London.
There Mr Bingo was a commercial illustrator for 15 years, working regularly for clients such as The New Yorker, The Guardian, TIME, CH4, The Mighty Boosh & The New York Times. An archive of the thousands of illustrations from this period doesn't exist online because he got bored once in a motorhome and deleted his entire portfolio website. In 2006 and 2007, he provided the covers for the two QI books based on the comedy panel quiz fronted by Stephen Fry. The Book of General Ignorance and The Book of Animal Ignorance are both published by Faber and Faber. A selection of rough artwork and preliminary designs have since been showcased by the QI website.
Mr Bingo and his work has been featured in a wide range of magazines including Creative Review and Icon. He was recently described by Caroline Roberts in Vroom Magazine as 'a person who has redefined the traditional job description of an illustrator'. Alongside his commissioned work, Mr Bingo has regularly created limited edition prints which are represented by the Nelly Duff Gallery in London. Notable among these prints were the Hair Portrait series from 2007 where he depicted famous groups of people such as characters from Star Wars, The Mighty Boosh and Guns N' Roses, by drawing only their hair.
Mr Bingo has become well known for his Hate Mail project which he began in 2011. The project, which involves sending offensive postcards to strangers, started as a 'drunk idea' but went on to be exhibited in galleries and gained notoriety among the global press. In 2012, Camden Town Brewery released a limited edition Hate Ale beer with Mr Bingo called Camden Town Is Full Of Cunts. 5000 bottles were produced and it has since become somewhat of a collectors item. In 2015 he launched a Kickstarter to fund a book about his Hate Mail project. The campaign featured a rap video and a diverse selection of rewards including being trolled, having your washing up done, going on a date in Wetherspoons, being told to fuck off on Christmas Day and getting shitfaced on a train.
He decided around this period to never work for clients ever again and focus on being some sort of artist which he's done ever since.